Les Noces Rouges
(1973)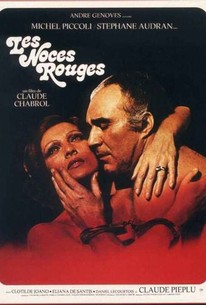 Movie Info
In this Hitchcockian French thriller directed by Claude Chabrol, marital infidelity once again leads to murder. Set in a small village, the plot gets underway when Mayor Paul Delamaire (Claude Piéplu) discovers that his wife Lucienne (Stéphane Audran) is cheating on him. Her lover is the mayor's own deputy, Pierre (Michel Piccoli), whom Delamaire then sets about blackmailing in order to pull off a real estate scam. As might be expected, the ensuing tensions and anger result in homicide. Les Noces Rouges is stylishly directed and contains a fair amount of dark humor, but is a bit too predictable to stand among Chabrol's best.
Critic Reviews for Les Noces Rouges
Audience Reviews for Les Noces Rouges
½
Though it finally takes itself a little too seriously and ends rather perfunctorily, for the most part this comedy - about an increasingly flagrant extramarital affair which results in a double murder - is delightfully entertaining. It does take a few satirical sideswipes at corrupt politicians, which no doubt contributed to the film's temporary ban in France, but "Les Noces Rouges" works best as a simple, unpretentious bed-hopping farce. I, for one, never need much of an excuse to look at Stéphane Audran, or the Citroën DS, for that matter, however Jean Rabier's lovely autumnal photography is certainly a bonus. The film also boasts a splendidly mournful, Bernard Herrmann-esque score by Pierre Jansen. Acting honours go to Audran and Claude Piéplu, as her slimy, chain-smoking, cuckolded husband.
Les Noces Rouges Quotes
There are no approved quotes yet for this movie.