Let Me In
(2010)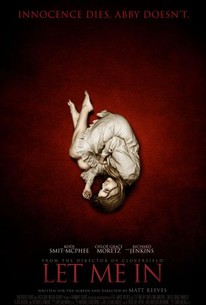 TOMATOMETER
AUDIENCE SCORE
Critic Consensus: Similar to the original in all the right ways -- but with enough changes to stand on its own -- Let Me In is the rare Hollywood remake that doesn't add insult to inspiration.
Movie Info
Twelve-year old Owen is viciously bullied by his classmates and neglected by his divorcing parents. Achingly lonely, Owen spends his days plotting revenge on his middle school tormentors and his evenings spying on the other inhabitants of his apartment complex. His only friend is his new neighbor Abby, an eerily self-possessed young girl who lives next door with her silent father. A frail, troubled child about Owens's age, Recognizing a fellow outcast, Owen opens up to her and before long, the two form a unique bond. When Abby's father disappears, the terrified girl is left to fend for herself. Still, she rebuffs Owen's efforts to help her, leading the imaginative Owen to suspect she's hiding an unthinkable secret.
News & Interviews for Let Me In
Critic Reviews for Let Me In
Audience Reviews for Let Me In
½
It's a good story and film, I saw the Swedish version first, so kinda spoils any surprises, as it is a scene for scene re-work. In fact I'd say some of the key scenes were better in the original version. Why they added some dodgy cgi in places is anyones guess? Have to say Chloe Moretz is one to watch for the future, great young actress.
½
Being a Hollywood remake of an independent foreign film, Let Me In is more mainstream than the original, but has enough similarities with the original to maintain the high quality present in the original. Acting wise, this film is at least on par or even a little better than the original, but the minor changes to the story take a little bit of the bite the original had out of the equation. Visually, this film is superior to the original thanks to a bigger budget. The special effects are better (a horrible cat scene from the original sticks out like a sore thumb as much better in this film) and the gore is more realistic. Other than that, they are basically the same. I really liked both versions of the film and both have elements that are better done in each version, but I would give just a very slight edge to the original for not taking out the main context of the story and sticking to its guns. Both versions are very much worth watching and some of the better horror movies of the past decade.
Josh Lewis
Super Reviewer
½
I usually don't like remakes. For obvious reasons, specially the American ones. Just to take an example, get a very nice film like Mostly Martha and turn it into the stupid No Reservations. And I just heard that there's a remake to Godard's Breathless with none other than Richard Gere! What's wrong with you guys? If a great film, worldly acclaimed, is not yours, you want to ruin it? Nah. Unfortunately, you think you're doing a really good job. Some foreign films have an economic potential if converted to the "American taste" what, let me explain, is not exclusively to Americans. This below average taste has been spread all over the world mostly because of your powerful film industry, so this is not a critic to a country, but to a "way of life" - let's put it that way - that can be found anywhere. Having said that, let's move to Let Me In. Having seen Låt den rätte komma and read John Ajvide Lindqvist's novel, I can nothing but laugh out loud - or should I say "cry"? - after seeing Matt Reeves' remake. He not only managed to ruin the original film but the book as well. First of all, the kids. They're too much nice, too much cute, too much trained, too much not convincing (me). If we're going to shoot a remake, let's make sure to change a few things, right? Instead of a blond boy and a brunette girl, let's choose a dark-haired boy and a dark blonde girl and voilà! Now we can copy some scenes, frame to frame, add a little bit of crap to it, and we have a "great" and different film. Anyhow, it'd be better if the differences have remained restricted to the cast. I feel sorry for saying it, but even the bullying is worse here. Americans and their vision of right and wrong had, of course, to justify why that boy has such a nasty behavior: he calls Owen "little girl" and treats him the way he does because his older brother does the same to him. Oh poor little kid! Still into this good versus evil vision, we have Owen's mom and Abby's "dad", who only looks like Håkan. Of course the pedophile (not suggested in the film) can't be somehow "nice", so he will not only call little Abby fucking bitch and yells at her, as he seems to be the "boss" in all situations. Why does he douse his face with acid? Because that's what Håkan does in Let the Right One In. For not even one second you believe he would do that to protect Abby what, by the way, is not even explained. Now, Owen's mom. It's unbelievable, but true: she is a freaking religious and that must explain everything, right? Divorced parents, fanatic mom, weird boy. And where this comes from? Reeves took this religion thing of the book, but changed it for worst. In the novel, Oskar has a sort of friend, Tommy, an older boy who lives in his building. Tommy's mom is dating the religious police officer, Staffan, that investigates the deaths. What Reeves did was take Lacke and the other drunks off the scene and put Staffan in. Those scenes in the hospital are really in the book, but he is not killed. Talking about scenes and killing, if you watched Let The Right One In you remember that there were two girls with a dog that find the first Håkan's victim, right? Well, to not let such an important thing out, Reeves makes Ginia - the woman that will be attacked by Abby - a "posh girl" walking with her dog. Oh, and I was almost forgetting the worst thing about this film: when thirsty for blood, Abby becomes a mix of Marilyn Manson and the girl from The Exorcist, what it's said to be the great difference between the two films, making Reeve's film more suitable for the terror genre and less romantic than Tomas Alfredson's. Have these critics seem the same film I did? Because Let Me In is much more romantic in a silly way. First of all, Abby and Owen's relationship develops very fast, specially due to the fact that eight minutes are lost in that useless and typical beginning scene. Also, they're really good kids, no matter if Abby kills people and Owen spies his female neighbour about to have sex. Owen is so nice that, in a normal and innocent idea of sex as sin or 'love in this side, sex in the other', he stops spying Abby when she's changing clothes. Of course that this scene happens mostly because people wouldn't understand the similar scene of Let The Right One In, another reason why Abby says that she's not a girl, she's nothing. If she had only said she is not a girl, people would understand exactly the same as we did in Let The Right One In, where the homosexuality is not clear: she's not a girl, she's a vampire. Not necessary to say much more. Not everything has to be said or shown. I would prefer to wonder what they "talked" in the end than to know that the "trains starts to move". Other few points: I think the cold light of Let The Right One In works much better than the "warm" yellow one of Let Me In, but yes, I understand that New Mexico is not Stockholm. The music that is an important thing in the Swedish film completely loses its sense in this one. When we meet someone and feel connected, don't we want to show the person a film we like, a song we love? That's what Oskar does, when he put that amazing song to play in vinyl and tries to look cool in front of Eli. The song, "Kvar i min bil", played by Per Gessle, says something like "All of my heart crushed like glass, trashed when you said 'you've got to leave'. Where should I run? What will I come to?" perfectly fits Oskar. Let The Right One In is one of the few cases where the film is better than the book, a sort of cheesy horror flick. Let Me In is one of several cases where a remake is worse than the original film and the book.
Rubia Carolina
Super Reviewer
Let Me In Quotes
| | |
| --- | --- |
| Abby: | Just so you know, I can't be your friend. |
| | |
| --- | --- |
| Abby: | Just so you know, I can't be your friend. |
| | |
| --- | --- |
| Abby: | you have to hit back, HARD |
| Abby: | You have to hit back... HARD. |
| | |
| --- | --- |
| Owen: | How old are you? Really. |
| Abby: | Twelve. But I've been twelve for a very long time... |