Lethal Weapon 2
(1989)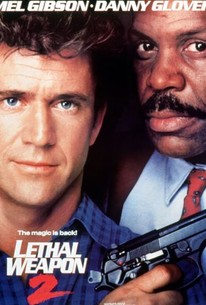 TOMATOMETER
AUDIENCE SCORE
Critic Consensus: Lethal Weapon 2 may sport a thin plot typical of action fare, but its combination of humor and adrenaline, along with the chemistry between its leads, make this a playful, entertaining sequel.
Movie Info
This high-voltage sequel continues the adventures of Los Angeles detectives Riggs and Murtaugh (Oscar-winner Mel Gibson and Danny Glover) as they try to thwart a smuggling ring of blond South African "diplomats". Gibson finds romance this time around, and Academy Award- winner Joe Pesci ("GoodFellas," "My Cousin Vinnie") joins the team as fast-talking con artist Leo Getz. "At the Movies" calls this "...Pure dynamite!...a summer blockbuster with enough humor, excitement and action for two movies," while Roger Ebert praises "...Terrific... entertaining from one end to the other." Gene Shalit sums up all the cheers, calling it "...even more fun than the original ...directed at a mile a minute by Richard Donner...lots of laughs.
Critic Reviews for Lethal Weapon 2
Audience Reviews for Lethal Weapon 2
The inevitable sequel cometh. The same mullet, the same tormented aging family man, the same scenarios, and the same car; Murtaugh's family station wagon. Yep despite the car getting wrecked in the first movie, Murtaugh has the same car for the sequel. Well this time its actually an Oldsmobile (previous was a Ford) but I'm sure its suppose to be the same car seeing as it looks identical. Anyway enough about the details of a family station wagon, what happens in this escapade? Mismatched cops Riggs and Murtaugh are now the best of pals and a top crime fighting partnership. Despite being a real pain in their superiors ass with all the damage and paperwork they cause, they always manage to get the job done. Right so this time the plot gets a bit political, well a lot political frankly (for the time). Yes once again the duo are after the arch nemesis of the 80's, drug dealers. But this time the baddies turn out to be headed by a South African diplomat/consul. To be more precise, the Afrikaner Apartheid Government of South Africa. These diabolical villains are smuggling cocaine and are slowly preparing to return to South Africa with their nasty ill gotten gains. I think the opening action sequence kinda sums up the movie for me, it shows you what to expect for the rest of the run time. Riggs and Murtaugh are chasing down one of the South African bad guys (Mark Rolston). The good guys are driving the family station wagon, the bad guys in a BMW. Somehow this crappy station wagon is able to keep up with said BMW for the most part. Then at one point Riggs gets out and pursues on foot, as he did in the first movie. Riggs then gets back into the station wagon and drives it up against the highway barrier causing much damage, to Murtaugh's anger and despair. Yet in the next shot there is no visual damage to be seen. It all ends with auto carnage and a helicopter appearing outta nowhere to save the bad guys. In short this movie ejects the darker grittier aspect of the first movie and instead ops for overblown action and goofy comedy. Once again Shane Black was brought on to helm the script and once again he produced what you would expect Shane Black to produce. The studios rejected Black's work for being too dark and violent. Apparently the studio [b]and[/b] Richard Donner wanted to take the franchise into lighter territory, more comedy. Instead they went with a script by Jeffrey Boam which either cut or watered down much of Black's work. Unfortunately this comedy aspect is really really obvious throughout the entire movie, to the point where it becomes annoying. Now don't get me wrong, there is a lot of super decent action in this movie and the mismatched pairing of Riggs and Murtaugh still holds strong. Its just a shame they turn the gritty duo into a goofy comedy act duo. There are so many scenes of silly dialog between the characters which are admittedly amusing but at the same time, it just feels too much, they just go too far with it. Easily the funniest scene in the movie has to be the TV commercial for condoms with Murtaugh's daughter. That scene is genuinely amusing and played out perfectly. No problems, it fits the bill; but then you have the entire toilet bomb sequence. Its supposed to be thrilling and emotional, showcasing how close Riggs and Murtaugh have become. But at the same time its basically one big gag which ruins any impact its supposed to have. Its in this movie that we also get the introduction of a new character to the team, sort of. Joe Pesci turns up as Leo Getz, a slimy, greasy little conman who laundered a billion Dollars for the South Africans. He's now in the witness protection program which Riggs and Murtaugh have been assigned to (especially for Getz). Now in this movie little Leo is actually a somewhat solid character. Pesci's performance is terrific fun (can anyone say 'fuck' better than Pesci?) and he is actually a good addition to the movie. The character adds a nice comedy element which isn't over the top; in turn he comes across as relatively realistic. Its just unfortunate they really wreck this character in the next movie. Then you have the action sequences which have naturally now become really big and slick. Take the main car chase sequence where Riggs and Murtaugh go after an assassin that just tried to off Leo. The entire sequence is bold and clearly looked good on paper. In reality (looking back) its a mixed bag because everything looks so fake. For a start the car chase is clearly going very slowly, but using a pickup truck towing a car what do you expect. Secondly the stunt doubles are far too obvious. You can clearly see at multiple points its not Gibson. And lastly the ending is so stupid and it didn't even work. The surf board that flies through the air and supposedly goes through the bad guys face, yet you can clearly see in the shot that doesn't happen. Terrible editing and effects for a daft conclusion. The bad guys for this sequel are definitely more menacing than the first I think. Admittedly Joss Ackland's elderly South African consul Arjen Rudd isn't overly intimidating, he merely comes across as a grumpy grandfather if you ask me. He also doesn't really do much other than stand around looking grumpy and barking orders. Its his henchmen that are more dastardly I think. This is mainly because they aren't totally faceless and useless. We do get to know some of the henchmen by face which adds a bit more zing when they fight with the good guys (if they're faceless hoods its meaningless, who cares). The lead henchman Pieter Vorstedt (Derrick O'Connor) is the real villain of the bunch though. O'Connor really has the perfect look for this character with his scrawny, wiry frame and gaunt face. He looks evil, he is merciless, brutal, and packs more punch than you'd think. I also liked how he's dressed in retro/dated attire that does fit with old school South Africa, the schoolboy-esque blazer and tie look. Vorstedt was easily the best thing in this movie, a really solid villain. Its also worth pointing out that these villains were also racist in this movie. Yes they even used a derogatory word most commonly used in South Africa. God knows if they'd get away with that now (doubtful) but it most definitely adds to the realism and emotional impact when things get heated. Overall this movie is a hard one to judge really. Its both enjoyable but totally flawed, annoyingly so. Looking back there are so many tiny mistakes such as the length of Riggs hair from scene to scene. The obvious stunt doubles are horribly obvious. The stunts are often very obvious meaning its just too easy to tell where its all been set up, cornered off etc...People and vehicles in the background give the game away far too easily, and the big car jump out of the cargo container in the docks looked like something out of a stunt show. In other words these sequences didn't really blend in, they stuck out. Then there's the nagging question of why Riggs never uses his martial arts skills anymore, remember he had those? And what is it with his constant wearing of red or blue shirts? Is there a hidden meaning behind those?? Its one of the best, if not [b]the[/b] best, comedy action movies of all time. But alas its also one of the biggest disappointments in terms of watering down a sequel from its far grittier, darker, superior original. Its up there, but it could/should of been so much more.
Phil Hubbs
Super Reviewer
½
A sequel that's just as good as the first one. It's the continuation of the adventures of the likable duo of Riggs and Murtaugh. It retains everything that made the first movie great and then some. Now we have Joe Pesci playing Leo Getz, the irritating yet harmless tag along. This one even packs some more emotional punches into it, turning it into a revenge-buddy cop-thriller. In the beginning, it drops you straight into the action and doesn't lose your attention for the rest of the film, ending on an emotional yet comical note. Lethal Weapon 2 is a great sequel. Letter Grade: A
Chris Miele
Super Reviewer
½
Roger Murtaugh: It's just been revoked!  "The magic is back!" Lethal Weapon 2 is just as entertaining, just as fun, just as funny, and just as thrilling as the original. The first one is a classic, but I like this one as much, if not slightly more than the first. The character development from the first one is over, and now it is all action. This actually has more action than the original, and the original had a shit load of action. The two main actors are back, Mel Gibson and Danny Glover, along with a new, familiar face; that being Joe Pesci. Whenever Pesci is in a film, you know it's going to be all the more better for having his presence. He plays a different type of character than I am used to seeing from him, but still he's good.  This revolves around the same core plot as the first. Two cops are on a case. This time they are dealing with some South Africans. Also, Riggs falls in love with a secretary that's working for the South African diplomat. The story is even more engaging than the first, in my opinion. It has just about everything movies like this need. As far as buddy cop movies go, it's hard to beat the first two movies in this classic franchise, or it's two cops; Murtaugh and Riggs. This is the cop duo.  This has to be considered another staple of the genre. The first two movies in this series pretty much define the genre. They have all the violence, explosions, and chases that they could possibly throw into the runtime. This movie is slightly longer than the first, but you won't notice. It runs like a sprinter. It starts fast with a chase scene , and doesn't stop until it reaches the finish line. Martin Riggs: I'm not a cop tonight, Rog. This is personal. 
Melvin White
Super Reviewer
Lethal Weapon 2 Quotes
| | |
| --- | --- |
| Martin Riggs: | Come on! We're back! We're bad! You're black, I'm mad! |
| | |
| --- | --- |
| Roger Murtaugh: | (After killing two assassins with a nail gun) Nailed them! |
| Roger Murtaugh: | [after killing two assassins with a nail gun] Nailed them! |
| | |
| --- | --- |
| Roger Murtaugh: | Its just been REVOKED!! |
| Roger Murtaugh: | It's just been REVOKED! |
| Roger Murtaugh: | Its just been REVOKED! |
| | |
| --- | --- |
| Roger Murtaugh: | It's just been revoked. |