Let's Go to Prison
(2006)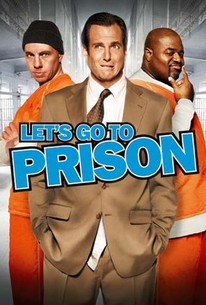 Let's Go to Prison Photos
Movie Info
Bob Odenkirk's jail comedy Let's Go to Prison!, stars Will Arnett as Nelson Biederman IV, the son of a judge who ends up being sentenced to serve time in Rossmore State Penitentiary. During one of his rare stints out of incarceration, career criminal John Lyshitski (Dax Shepard) learns of the conviction. John holds a grudge against Nelson's father and decides to get his revenge by going back to jail and making Nelson's stay there as horrible as possible. Chi McBride co-stars as a fellow inmate.
News & Interviews for Let's Go to Prison
Critic Reviews for Let's Go to Prison
Audience Reviews for Let's Go to Prison
½
[img]http://images.rottentomatoes.com/images/user/icons/icon13.gif[/img]
Directors Cat
Super Reviewer
John Lyshitski: If I had a nickel for every time I've been incarcerated... I'd have fifteen cents.  "Welcome to the slammer" Let's Go To Prison is an incredibly stupid, set in prison comedy, with a second rate cast that carry a bad script like this. Will Arnett and Dax Shepard aren't funny enough to carry a bad comedy, and Let's Go To Prison shows that perfectly. There are a few funny moments, and I think I found this funnier than I should have, but there's no deny how truly awful the movie is.  John is a repeat offender who has been sentenced by the same judge three times. When he gets out of prison for a short time, he wants to get back at the judge. Too bad, the judge just died. So instead, he goes after the judges son. When Nelson(the son) is sentenced to go to prison for a misunderstanding, John goes back to prison on purpose, to make Nelson's life a living nightmare. In prison, we see characters ranging from skinheads to big, black guys that want to violate Nelson. It's all rather routine, and the jokes are hit and miss. Mostly miss.  There was a time four or five years ago, when I watched this with a friend while passing a bong. Damn we thought it was the funniest thing ever. I watched it again a few years later, and wondered how I could have found it so funny. Now, watching it again, I could barely make it through the whole thing. It isn't a comedy that works well after multiple viewings. Hell, it isn't a comedy that works well for one viewing. Pretty much just terrible all the way across the board. The jokes are obvious, the characters oddly dull, and the situations seem like they were thought up by some 12 year old. But what should really expect from a comedy that has Will Arnett in a leading role. It can't be good, and it isn't. If there's a reason to watch it, it is to see just how bad comedies can get.
Melvin White
Super Reviewer
½
Welcome to the slammer Purely a comedy that isn't very funny but entertains at least with some wild crappy things that only in jail could happen. This is just a movie to watch to joke around with your friends while you watch it, it's not meant to take seriously at all. John Lyshitski is a car stealing slacker, with a weed problem, and has been in Illinois' Rossmore State Penitentiary so many times, he knows it's entire population of both staff and cons by their fast names. Cursed with the old ill luck of being in the wrong place, at the wrong time, in possession of the wrong car, he's been deemed a lost cause repeat offender in the eyes of everyone else. When the heartless judge, who has been behind most of his sentences, goes to the big court house in the sky, John decides to ruin the man's legacy by having the judge's only offspring, Nelson Biederman IV, thrown in the slammer along with him. Here, the world-class selfish jerk learns a certain old lesson the hard way: Do unto others as you would have others do unto you. But has John somewhat gone too far in the payback department?
Let's Go to Prison Quotes