Let's Scare Jessica to Death
(1971)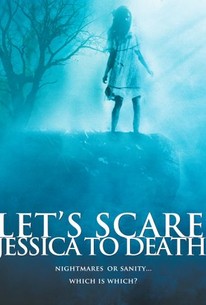 Let's Scare Jessica to Death Photos
Movie Info
This eerie low-budget chiller has recently released mental patient Jessica (Zohra Lampert) moving to a Connecticut farm with her husband and some friends. But a strange girl named Emily is at the farm, too, and it soon becomes obvious that she is somehow related to a young woman who drowned on her wedding day in the 1800s. Is Emily a vampiric ghost? Are the hostile townsfolk all zombies? Or is Jessica losing her mind once again?
Critic Reviews for Let's Scare Jessica to Death
Audience Reviews for Let's Scare Jessica to Death
Made just two years after the Charles Manson murders, "Let's Scare Jessica To Death" has a weird hippy vibe to it, eerie with it's elements of communalism and counter-culture ostracization. Jessica is a timid sort of house wife, moving with her husband and a friend to a house out in the country. In town, they meet a group of locals who don't want them around. Arriving at the farm house, they're greeted by a squatter named Emily. In true hippy fashion, they invite Emily to stay with them. But Jessica, who was recently released from a mental institution, starts to have odd hallucinations. But are they hallucinations? For such an obviously low budget, Let's Scare Jessica To Death manages create some fairly jarring, frightening images. The film is more disturbing than horrific, it makes us question who the crazy people are: Jessica (and us, as we observe through her eyes) or the people messing with Jessica, if they indeed are. It's a disturbing film, in the tradition of something like "Carnival of Souls". There are no clear answers and the whole thing doesn't make a lot of sense, which is probably the best way to go about creating this atmosphere of tension. In this manner, it succeeds.
Devon Bott
Super Reviewer
½
Exceptionally sad and sensitive for a cheap 70s horror, Let's Scare Jessica to Death is a unique look at mental illness within the genre. The movie is painfully dated, partially because it's not all that well made, which is its greatest issue by far. If you can remain empathetic and take it seriously, Zohra Lampert offers a picture of a woman walking a surprisingly blurry line between delusion and unbelievable reality. The task isn't always easy, with the generally ridiculous music and sometimes spotty acting from her support, but her interpretation of Jessica is sad and expressive. The movie is definitely about mood before plot, and Lampert aligns her performance with the movie's mood perfectly. It's actually frustrating (in the right way!) to watch her stutter and hesitate through her problems, surrounded by people who want her to get better and her own fears of not being able to do so. Anyway, I'm not sure I found this particularly frightening, but it's atmospheric and sad and generally creepy, much like Lake Mungo was. I guess I'm an easy target for these heavy horror-dramas.
Drew Smith
Super Reviewer
½
Excellent psychological thriller. I actually prefer this over Don't Look Now. The two have nothing in common really, but I associate them for some reason. Don't Look Now looks fantastic but the story is boring. In Let's Scare Jessica To Death, the story is good and has some nice visuals, too. The beginning is a little tedious and takes it a bit for the story to kick in, but that's my only complaint. A nice trilogy of films to watch with female leads overcome by supernatural forces would be The Haunting, Let's Scare Jessica To Death and Rosemary's Baby.
Tim Salmons
Super Reviewer
Let's Scare Jessica to Death Quotes
There are no approved quotes yet for this movie.