A Letter to Three Wives
(1949)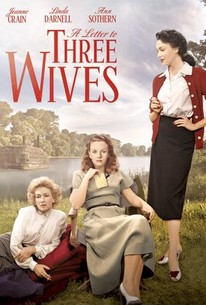 A Letter to Three Wives Photos
Movie Info
Three wives, played by Jeanne Crain, Ann Sothern and Linda Darnell, are about to embark on a boat trip when each receives a letter, written by a mutual friend named Addie, informing her that Addie is about to run off with one of their husbands. In flashback, each wife wonders if it is her marriage that is in jeopardy. Deborah (Crain) recounts her fish-out-of-water relationship with her up-and-coming hubby (Jeffrey Lynn); businesswoman Rita (Sothern) asks herself if she's been too rough on her professorial spouse (Kirk Douglas); and Lora May (Darnell), a girl from (literally) the wrong side of the tracks, questions the security of her marriage to a brash business executive (Paul Douglas). The voice of Addie, who is never seen, is provided by Celeste Holm. Thelma Ritter shows up in a hilarious unbilled bit as a slatternly domestic, while an equally uncredited Carl "Alfalfa" Switzer makes a quick entrance and exit as a bellhop. Written with perception and not a little witty condescension by director Joseph L. Mankiewicz, A Letter to Three Wives won two Oscars ,both for Mankiewicz. Based on a novel by John Klempner, the property was remade for television in 1985, with Ann Sothern back again in a supporting part.
Critic Reviews for A Letter to Three Wives
Audience Reviews for A Letter to Three Wives
This movie is both dramatic and suspenseful, while telling four different stories, and I liked the ending too. This is a good movie.
½
My favorite Linda Darnell film. It's hard to stand out in a cast that includes such greats as Kirk Douglas, Ann Sothern and Jeanne Crain but she still manages to shine.
Randy Tippy
Super Reviewer
I'd forgotten what a great movie this is! Celeste Holm narrates as Addie Ross, the unseen but effortlessly superior friend of three women (Jeanne Crain, Ann Sothern and Linda Darnell), one of whose husbands Addie claims, in a mischievous letter, to have run off with. But whose husband does she mean?!?! Each adores Addie, and each seems to be acting strangely... Moving to flashback, one for each wife in turn, we see the women quietly upstaged in their domestic bliss by their infuriatingly perfect girlfriend. Linda Darnell stands out from the excellent cast, probably because she gets most of the best lines, but Ann Sothern is just as good. It's nice to see Kirk Douglas taking his place in the ensemble for a change, instead of selfishly chewing the scenery; even when he does explode, in a rant against radio advertising, he does so with relative restraint and his performance is the better for it. Thelma Ritter plays that same part she always plays. As you would expect with Mankiewicz, there's some wonderfully sophisticated dialogue. Celeste Holm's sweetly malicious voiceover, though brief, must qualify as one of cinema's greatest.
A Letter to Three Wives Quotes
There are no approved quotes yet for this movie.