Levity
(2003)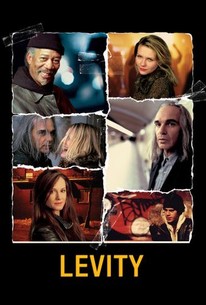 Movie Info
Action comedy screenwriter Ed Solomon switches gears to psychological drama for his feature film directing debut, Levity. Manual Jordan (Billy Bob Thornton) gets released after doing 23 years in prison for accidentally killing a kid during an attempted robbery. Not having any place to go as a free man, he returns to the town where he committed the crime in hopes of seeking salvation. He ends up in a community center where he meets pastor Miles Evans (Morgan Freeman), who helps him out with practical matters like work, food, and housing. Trying to find redemption for his sins, he befriends Adele Easely (Holly Hunter), a single mother who just happens to be the sister of the boy he shot in the robbery. He also meets teenaged Sofia Mellinger (Kirsten Dunst), a rich girl with a drug problem. Still attempting to reconcile with his past, Manual seems drawn to interfere when Adele's son Abner seems headed down a criminal path. Levity premiered at the 2003 Sundance Film Festival.
Critic Reviews for Levity
Audience Reviews for Levity
Thoughtful and compelling, Levity is an insightful drama that explores some deep issues. The story follows a convict that's seeking redemption and is taken in by a street preach who runs a shelter. Billy Bob Thornton, Morgan Freeman, Holly Hunter, and Kirsten Dunst lead the cast and give strong performances. The film is quite introspective and approaches its material in an unusual manner; which gives it a refreshing tone. Some of the character plots are underdeveloped, but overall the writing's pretty good. Though it's not completely successful, Levity is a smart and well-crafted film that has some rich storytelling.
Dann Michalski
Super Reviewer
This was a great story and if it was a book, it would have been amazing. As a movie however it was a bit slow.
Todd Smith
Super Reviewer
½
Slow and straight-forward movie. I liked it...
Leigh Ryan
Super Reviewer
Levity Quotes
There are no approved quotes yet for this movie.