Nihon kuroshakai (Ley Lines) (Japan Underworld)
(1999)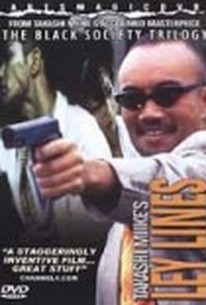 AUDIENCE SCORE
Critic Consensus: No consensus yet.
Movie Info
Three men hoping to find a better life in Tokyo find their dreams of happiness turning into a waking nightmare in the final installment of maverick Japanese Director Takashi Miike's Black Society trilogy. When a scheming Chinese prostitute takes the men for all they're worth and the harsh realities of racism and poverty render them unemployable, the trio attempts to carve a niche in the local drug trade as a means to make ends meet. Stricken with sympathy for the men she had previously betrayed, the prostitute attempts to help the men -- but city life has taken its toll on them and the reluctant trio soon begins plotting a daring bank robbery that will provide them with the money necessary to escape Tokyo and start life anew in a better place. ~ Jason Buchanan, Rovi
Critic Reviews for Nihon kuroshakai (Ley Lines) (Japan Underworld)
All Critics (3) | Fresh (2) | Rotten (1) | DVD (3)
Ley Lines has its faults, but features great cinematography and many of the elements that made Miike who he is now, and thus, definitely deserves a look.
better and more engaging than some of Miike's most convoluted and incomprehensible yakuza epics
June 20, 2005 | Rating: 3.5/5
...perfectly exemplifies Miike's inability to effectively pace his films.
Audience Reviews for Nihon kuroshakai (Ley Lines) (Japan Underworld)
Ley Lines is the 3rd film in Takashi Miike's Black Society trilogy. Once again, this is a crime thriller with trademark Miike elements. Sex and violence.
While being the 3rd film in the trilogy, this is, like the previous 2, a standalone film. It is the dark gangster theme that connects the 3.
There are 3 young adults leaving their suburban rural lives behind to look for bigger things in Tokyo. The story sounds like it has a lot going for it, however it is pretty weak. A good bulk of this movie is like watching people go through the motions and the film becomes quite boring, despite Miike's graphic material.
The weird thing with this movie is that the nudity is blocked by cheap looking scribbles and naughty language is beeped out. I don't know if this was forced onto the film, but it really takes away from the tone at times.
The camerawork quality is of B-standard. Dark scenes are really dark and that makes things difficulty to see.
The acting is acceptable. Kazuki Kitamura has the look and feel of a delinquet teenager and Naoto Takenaka can pull off a villain. Tomorowo Taguchi and Sho Aikawa, from the previous 2 films, show up as supporting characters.
Ley Lines is another graphic Miike gangster film, however it will only cater to some.
½
Ley Lines concerns a trio of small town half-Chinese boys who decide to run away from their rural backwater and head for the bright lights of Tokyo, only to find squalor and degradation in its seedy underbelly. Befriending a local prostitute they hatch a scheme to rob a gangster to get the money to pay for passage away from Japan. This is one of Miike's more conventional movies, but it still contains many of his trademark themes; he certainly pulls no punches when it comes to depicting sex, violence and of course, sexual violence, and as such it can make extremely grim viewing. The title "Ley Lines" is a rather ironic one as they are mystical lines of convergence, whereas I think Miike what was trying to say was that all of the people inhabiting this twilight world could not help but continually run into each other, either as perpetrator of crime or victim because they were all ultimately trapped within this ugly twilight world. If you have the stomach for its more extreme moments it's a rewarding film, but it certainly won't be to more mainstream tastes.
Nihon kuroshakai (Ley Lines) (Japan Underworld) Quotes
There are no approved quotes yet for this movie.