Liberty Heights
(1999)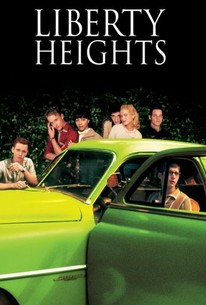 TOMATOMETER
AUDIENCE SCORE
Critic Consensus: A moving film with moments of humor, Liberty Heights succeeds in capturing the feel of the '50s with great performances and sensitive direction.
Movie Info
It is Baltimore in 1954 and everything is changing. In this year, school desegregation is happening for the first time, bringing black and white children from different neighborhoods into the same classrooms. In this year, the dawning of rock'n'roll is giving teenagers their first slice of a musical world that will become uniquely their own. In this year, the influx of automobiles becomes a powerful force in America, allowing people the mobility and privacy to travel at will--to see things right in their own hometown that were previously unknown to them. And in this year, the Kurtzman family developed a newly heightened understanding of what it means to be Jewish in a rapidly growing world in this story which examines the changing times of the mid-1950s and issues of race, class and religious distinction as seen through the eyes of a particular American family.
Critic Reviews for Liberty Heights
Audience Reviews for Liberty Heights
Life for Jews and blacks in 1950's America. That sentence pretty much sums up the film. There's no plot, instead it's a character-lead film but sadly the characters are so cliched that the film ends up being supremely mediocre. Brody is good but has nothing to do, it's Foster who has the most interesting storyline - it's just a shame it's Romeo + Juliet all over again. This film really could have done with some darkness or a threat (there's a kidnapping but the tone is way too light) to give it some grit and substance.
Marcus Woolcott
Super Reviewer
Ada Kurtzman: No, there the other kind. Set in 1954 Baltimore, this is a coming of age story involving two Jewish boys, one in high school, one in college, both going after girls and dealing with the changing in times and issues of race, class, and religion. Ben Foster is the younger of the two, he plays Ben Kurtzman. His story revolves around his attraction to a fellow black girl in his class. The two hit it off, but there are various obstacles in the way of them hanging out together. Adrien Brody is the older brother, Van. He is basically the simplest character in the movie. All he wants to do is find a girl he met one night at a party, although this does provide the setup for a number of entertaining scenes involving he and his friends hanging in the "non-jewish" neighborhoods. You also have their parents played by Bebe Neuwirth and Joe Mantegna. This plot is the least entertaining, mainly cause it drags in another character. Mantegna runs a burlesque house and an illegal numbers operation. He gets into some trouble when a lottery game they have going needs to pay off much more than they can. This part leads to a character played by Orlando Jones that really doesn't help the movie much, besides give way to some story developments. Besides this character, the movie works very well. Foster is very good, as he is basically the main protagonist. Mantegna is just a cool guy in general, so he works. The chemistry between the friends is all very good. Director Barry Levinson, who has made a number of comedy-dramas, knows how to keep things pretty balanced and entertaining. He also gets a number of 50s elements present and has some hints of satire. The issues involving jews, blacks, and the rich white crowd are handled well enough, but this isn't a film about providing deep answers to these things or anything like that. It just serves as a setting. The film takes that setting, and uses it to make a fine coming of age story. Ben Kurtzman: In the event of a bombing, do you think this book will save my life?...First it was the Atom bomb, how its the hydrogen bomb...no hydrogen is getting through this book.
Aaron Neuwirth
Super Reviewer
Liberty Heights Quotes
There are no approved quotes yet for this movie.