Liberty Stands Still
(2002)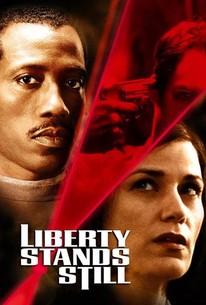 Liberty Stands Still Photos
Movie Info
When his daughter is killed by an illegally purchased firearm during a high school shooting, a normally pacifistic man named Joe (Wesley Snipes) goes off the deep end. Vowing to get even with the gun manufacturer who created the weapon, Joe targets the manufacturer's widow, Liberty Wallace (Linda Fiorento), for a complex scheme of justice and retribution. Armed with a cell phone and a long-range rifle, Joe orders Liberty to handcuff herself to an outdoor hot dog stand, wired with a time bomb. As the clock ticks inexorably closer to the inevitable explosion, the terrified but resourceful Liberty tries to talk her way out of her predicament--a task made virtually impossible by Joe's bizarre "conditions". First screened in America at the 2002 Palm Springs International Film Festival, Liberty Stands Still did not gain a widespread showing until it was picked up for cable broadcast by Cinemax on August 10, 2002.
Critic Reviews for Liberty Stands Still
All Critics (5) | Top Critics (1) | Fresh (1) | Rotten (4) | DVD (5)
Writer/director Kari Skogland clearly has an agenda - the film is vehemently anti-gun - resulting in incredibly obvious and preachy instances of dialogue and a ham-fisted approach to the storyline.
A ripe-on-the-vine concept married to strident execution. There's thought here, but Liberty is marred by vague, freshman directorial touches.
Audience Reviews for Liberty Stands Still
Wesley Snipes plays a man seeking revenge for the death of his daughter in a high school shooting incident. He calls himself Joe and takes a hostage Liberty (Linda Fiorentino of Last Seduction), the wife of the `evil' gun manufacturer (Oliver Platt), who, in this movie, is a mega-corporation that has every politician in the USA in its pocket. He has her cuffed to a hot-dog stand in a park which contains a bomb that is set to blow if her cell phone he is communicating to her on dies and plans on killing anyone that approaches her with the sniper-rifle he has pointed at her from a nearby building (am getting flashbacks of phone booth here) Linda Fiorentino is gorgeous but the anti-gun stance was weak, I would have expected some intelligent dialog somewhere. Nevertheless it deserves praise for trying to make a statement about guns, gun control, and violence.
This thriller is like The Negotiator and Phone Booth about the vengeance of the mysterious caller onto a heiress to and co-president of America's largest gun manufacturing corporation.
Dean McKenna
Super Reviewer
Liberty Stands Still Quotes
There are no approved quotes yet for this movie.