The Librarian: Quest for the Spear
(2004)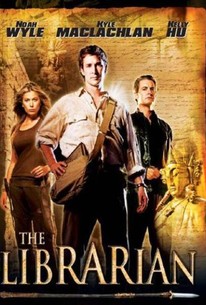 The Librarian: Quest for the Spear Photos
Movie Info
A "professional student" lands a truly remarkable job in this witty made-for-TV fantasy adventure. Flynn Carsen (Noah Wyle) is a 30-year-old graduate student who has managed to collect a whopping 22 university degrees; despite his brilliance, shy Flynn seems to have a hard time with the real world, and his mentor at school finally has him expelled so he can start putting his knowledge to work. Things are not much better for him at home, where his mother, Margie (Olympia Dukakis), wants him to meet a nice girl and settle down on his own. Needing a job, Flynn finds an unexpected opening with the New York Metropolitan Library, where Judson (Bob Newhart) and Charlene (Jane Curtin) hire him to look after a special collection. And a very special collection it is -- unknown to the world, the library has been caring for the world's most precious relics, including the Holy Grail, Pandora's Box, the Golden Fleece, the Sword of Excalibur and the Mona Lisa (the real one...turns out the Louvre only has a copy). It isn't long before Flynn learns how dangerous his job can be when he's approached by Lana (Kelly Hu) and Rhodes (David Dayan Fisher), members of a secret underground mob known as the Serpent Brotherhood who happen to know that Flynn is the new guardian of the Spear of Destiny -- and will stop at nothing to take it from him.
Critic Reviews for The Librarian: Quest for the Spear
Audience Reviews for The Librarian: Quest for the Spear
½
No more than the Indiana Jones of the library made for TV. 1st of 3 films in this series, I doubt I will waste my time with the other 2 movies, just to much better stuff out there. 2 1/2 stars
Bruce Bruce
Super Reviewer
½
Mindless but fun spoof of Indiana Jones and the like. Wyle is a geeky pleasure in the lead with Sonya Walger beautiful and tough as his protector. Bob Newhart, Jane Curtin and Olympia Dukakis add nice touches in small roles.
01/07/2010 (DVD) A good one for the family. This is another one that looks too much like a TV series than an actual movie but it is surprisingly a good sitting. A nice round of usual comedy that is fitting for the family with an adventurous story that keeps things interesting. The CGI is terrible but the film managed to keep me entertained.
EightThirty .
Super Reviewer
The Librarian: Quest for the Spear Quotes
| | |
| --- | --- |
| Flynn Carsen: | Well then, we better call the police. |
| Charlene: | Oh yeah, call the police. Tell them about the Spear of Destiny, the golden goose, the lost Ark. Enjoy your stay in the psych ward. I understand Thorazine comes in vanilla now. |
| | |
| --- | --- |
| Flynn Carsen: | [after being told that he has to fly a helicopter with no prior experience] The main principles are lift and thrust... |
| Flynn Carsen: | [fiddles with controls] Easy as pie. |
| Flynn Carsen: | [helicopter starts malfunctioning and flying erratically] Horrible! Horrible! High-velocity pie of death! |
| | |
| --- | --- |
| Flynn Carsen: | Where are the Marines? |
| Judson: | [pulls back shirt to reveal Marine tattoo over heart] Semper Fi. |