Lie with Me
(2005)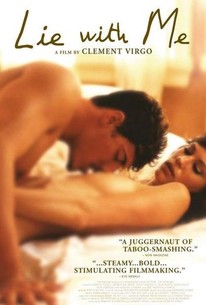 Movie Info
A young woman who's formed her sexual identity around anonymous one-night-stands considers the option of a committed, monogamous relationship in this erotic psychological drama. Introduced in voiceover, the twentysomething Leila (Lauren Lee Smith) makes clear her preferences for picking up guys based on mutual, animal attraction, as well as her desire to exhibit power over men. But when she locks eyes with the tall, dark, and handsome David (Eric Balfour), her priorities begin to change, and she finds herself wanting more from a man than just hot sex. Each partner has his or her own baggage -- David is taking care of an ailing father, while Leila is caught in the middle of her parents' messy separation. Already familiar with the concept of sexual liberation, Leila finds she has to be emotionally vulnerable as well if she wants to hang on to David. Directed by Canadian independent filmmaker Clement Virgo, Lie With Me had its world premiere at the 2005 Toronto International Film Festival.
Critic Reviews for Lie with Me
Audience Reviews for Lie with Me
½
Clement Virgo's "Lie With Me" is a depressing picture about two lonely souls who happen to meet and engage in a sexual relationship. The story begins with a woman named Leila(Lauren Lee Smith) who is seen as a lonely creature with a strong sexual appetite. At night Leila goes out to night clubs and through voiceover she explains about sexual stories about the men she had fun with. Just before leaving the party with another guy to fling with, Leila sees and lock eyes on a young male stud named David(Eric Balfour). Leila and the unknown stranger have a quick fling outside of the club while David(who is inside of his truck with his gf) is looking across, getting turned on by Leila's skills. David's gf copies Leila's actions but to David seems less turned on by the process. The two lonely souls meet at a quiet park in Toronto and later on next thing you know begin a sexual relationship. Both seem to be really attracted to one another and the two seem to wonder if they could take their realtionship to a higher serious level. The filmmaker Clement Virgo is interested in the fascination of casual sex between both partners and the games that they play but I don't know if that is a good message to send out to an audience. It's easy for one to like to have sex but harder to fall in love. I felt pretty disappointed in Leila because she has no love for David and in one scene leaves him after they slept together because she doesn't know how to love. Then she wants to come back to David because she feels lonely and cannot find another guy who can please her the way David does. He rejects her.(One can sense the stupid games women love to play on men) The third act is almost a repeat from the early parts of the picture. By then I grew restless. Virgo's film is shot quite well and he loves to use camera speeds slowing the frames down to draw a heightened reality but overall I couldn't recommend this film due to the repetitive softcore scenes and first encounters/seperations between Leila and David. The ending is really a letdown.
½
This Canadian drama-romance film is not bad, but so hot as what I think it is stunning, but never gratuitious or porn-like. The sex scenes are long, filmic and beautifully shot, but not enough. Lauren Lee Smith delivers a performance in an extremely challenging role that required not only an understanding of the "dark side" of modern relationships, but a clear ability to approach the character of "Leila" with honesty, courage and a sense of honesty that transcends most films in this genre.
Dean McKenna
Super Reviewer
Waste of time soft porn with a bit of a storyline. I couldn't even sit through it.
Lie with Me Quotes
There are no approved quotes yet for this movie.