Lies & Alibis
(2006)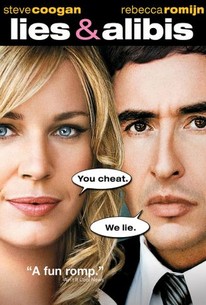 Movie Info
When a reformed grifter currently running a prosperous alibi service for adulterous husbands inadvertently becomes an accessory to murder, he is forced to execute one last, well-timed con as a means of clearing his name in this lightning fast caper comedy starring Steve Coogan, Rebecca Romijin, Selma Blair, and Sam Elliot. Ray (Coogan) is a smooth operator with a special knack for helping his fellow man dodge the proverbial bullet. When a married man simply can't resist the urge to have a bit of fun on the side, Ray is the man they call to ensure that word of their infidelity never gets back to their unsuspecting wives. When the spoiled son of a high-profile client accidentally kills his clandestine lover on the eve of his wedding, Ray is shocked to discover that he has been implicated in the crime. With a small-town cop targeting him on one side and a mysterious assassin known as "The Mormon" locking him into his sights from the other, desperate Ray must now enlist the aid of his beautiful new recruit Lola (Romijin) in carrying out one last con designed to both clear his name, and save his life. The debut feature from co-directors Matt Checkowski and Kurt Mattilda, Lies and Alibis also features performances by James Brolin, Henry Rollins, James Marsden, Debi Mazar, Jerry O'Connell, and John Leguizamo.
Critic Reviews for Lies & Alibis
Audience Reviews for Lies & Alibis
½
A film that had that "cool" factor, but something went wrong in the editing? I felt mildly lost throughout this movie. Despite a rather strong cast (minus Romijn), this is one of those movies with unclear intentions. Is it a romantic comedy? Is it a light comic adventure about cons, and crimes? You never really know, or feel, like the movie achieves its purpose. So many wasted talents.
Cynthia S.
Super Reviewer
½
I'm not a big fan of caper movies. There's just something generic about them and once you've seen a caper movie, realistically, you've seen them all, even if they're good movies. It's really quite hard to stand out. So I'm surprised that I 'enjoyed' this movie more than I should have. The story isn't very clear and the last 20 minutes or so try to be needlessly complex, with every character appearing in the same place at the same time to solve their several subplots. It felt forced and unnatural. But it's not a bad movie, especially for a direct to dvd film. Steve Coogan is great, so that may have helped a bit. And that's it, another generic but slightly enjoyable caper movie you won't miss out on anything if you decide to skip this one. But there's also worse ways to spend 90 minutes.
Jesse Ortega
Super Reviewer
½
[font=Century Gothic]In "Lies and Alibis," ex-con man Ray Elliot(Steve Coogan) is the head of a risk management company that specializes in providing alibis for cheating spouses, both male and female.(By the way, his ex-partner has a five million dollar bounty on his head.) His interview for a new associate, Lola(Rebecca Romijn), includes an impromptu audition to get a valued client, Robert Hatch(James Brolin), off the hook with his wife(Sharon Lawrence) which works out perfectly, if not exactly how Ray imagined it. Later, Bob employs Ray personally to oversee his son's(James Marsden) affair but it goes disastrously bad when he accidentally strangles his lover(Jaime King) during rough sex.[/font] [font=Century Gothic][/font] [font=Century Gothic]"Lies and Alibis" is an entertaining movie that is about the need to enjoy one's job. The movie starts with a great premise, but slows down and threatens to turn into just another predictable morality play. At which point, it backs away from the edge and in its last act becomes a beautiful piece of intricate clockwork ingenuity.[/font] [font=Century Gothic]For the record, a freshman ethics course could spend a whole semester debating the morality of Ray's firm, so I will not comment or judge. But I will say that it does look like they provide a valuable service, which is good, especially if any number of conservatives are offended, crying about the sanctity of marriage.(Although to be perfectly frank, if you are going to have sex outside of your marriage, then it is best to have an open relationship.) The fact that the firm charges a fee for their services, mostly from wealthy philanderers, means that you will pay one way or another.[/font]
Lies & Alibis Quotes
There are no approved quotes yet for this movie.