Lies & Illusions
(2009)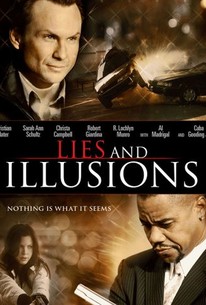 AUDIENCE SCORE
Critic Consensus: No consensus yet.
Movie Info
Christian Slater stars in this thriller as successful self-help author Wes Wilson, whose happiness is shattered when his fiancee, Samantha (Sarah Ann Schultz), is killed in a seemingly random attack. Wes's world is turned further upside down after he uncovers Samantha's secret double life, which involved stealing a cache of diamonds from ruthless jewel smuggler Isaac (Cuba Gooding Jr.) -- who now wants his loot back, and is willing to do anything to get it.
Critic Reviews for Lies & Illusions
Audience Reviews for Lies & Illusions
Got more then I expected from this one, one fault was Cuba Gooding Jr doesn't play that good of a bad tough guy role. Christian Slater plays an excellent role as the push over believe anything boyfriend. And what starts out as a thriller / mystery, often turns into comedy. Slater's first girl friend is supposedly killed and after morning her death for a year he is able to claim the goods she left behind, little does he know she's lead a secret life and has stole a bundle of diamonds from our bad guy Cuba Gooding Jr. If your looking for thrills and suspense go find a different movie, if you want a fun movie the this is your pick, I gave it 4 stars based on Fun Movie. A Rental for sure. 4 Sars 2-13-10
Bruce Bruce
Super Reviewer
One of the worst movies I've seen in a while! Horrible in almost every way. It's unfortunate that Christian Slater and Cuba Gooding Jr. are connected to this. They're both actors that I like, but this is total garbage.
Jameson Worley
Super Reviewer
For a movie done on a budget minus the small screen of made for cable tv idea, this movie wasn't too bad to enjoy! With the idea that Christian Slater is a novelist writing a best seller book on relationships, and meeting and falling in love with a mysterious woman this movie takes you to Spokane, Washington...where Cuba Gooding Jr has a hunger for what the mysterious woman has...other than her appealing looks...also throw into the mix... ah hungry agent that will stop at nothing to get into the mix of the madness.... it's a good watch for a flick! See it...but for free...!!!
Fascade Fiveoneeight
Super Reviewer
Lies & Illusions Quotes
There are no approved quotes yet for this movie.