Life After Beth
(2014)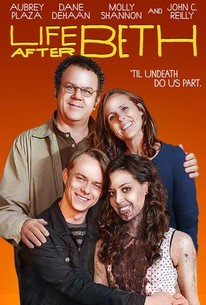 TOMATOMETER
AUDIENCE SCORE
Critic Consensus: In spite of Aubrey Plaza's committed performance, Life After Beth remains a sketch-worthy idea that's been uncomfortably stretched to feature length.
Movie Info
After his girlfriend unexpectedly dies, Zach is devastated. However, he gets a second chance at love after she rises from the dead.
News & Interviews for Life After Beth
Critic Reviews for Life After Beth
Audience Reviews for Life After Beth
This is one I had wanted to see for a while, but I didn't actually like it that much. I don't know why, but Aubrey Plaza is always annoying, even though I generally like sarcastic/deadpan type characters. The movie drags and just doesn't live up to its potential.
Nicki Marie
Super Reviewer
Banking off the hot zombie craze that has been floating around nowadays, "Life After Beth" follows Zack after his girlfriend dies in the forest from a snake bite. Learning that she has come back from the dead and is slowly decaying into a zombie, he must learn to somehow tell her and help her deal with it. The dark-comedy undertone made this film much more watchable than it would have been, had it been taken 100% serious. Dane Dehaan and Aubrey Plaza are solid in these roles, although for some reason it seems they overact a tad too much. In the end, "Life After Beth" has an atmosphere that is believable enough, and a cast that is quirkily endearing. I loved watching this film for what it was, however, it does get tired by the end, and that is not a good thing considering it's short run time. It begins to fall into the predictable category by the last act, even though it held up the sheer fun element. Overall, a predictable film that is fun to watch!
½
There was a pretty decent premise hidden in this indie comedy, but it gets bogged down in a worldwide zombie epidemic and really weird choices in score and directing, veering it towards drama. Instead of starting at their relationship, the film begins with Beth's (Plaza) funeral, so we never get to know her as a mortal. When she comes back to life her boyfriend (DeHaan) has to grapple with his own inadequacies and fears regarding not telling her the truth while she's alive to hear it. The trailer presents this as a wacky, screwball comedy, but it tries to be much more nuanced and dark than it ought to be. I would have liked to see some truly zany comedy. Instead the film tries to be weird by including traits for the zombies that make no sense: they like attics, they like smooth jazz, and they're always digging. The weirdness is treated like new attributes in the zombie canon instead of the wacky choices that they are. It's kind of irritating to see strange things treated with seriousness, especially in a film that is trying to be a comedy. If it wasn't so serious, this would have been a better formulated film.
Spencer S.
Super Reviewer
Life After Beth Quotes
There are no approved quotes yet for this movie.