The Life Before Her Eyes
(2007)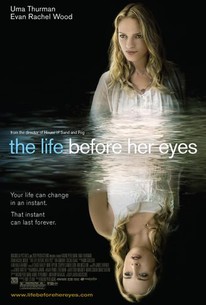 The Life Before Her Eyes Photos
Movie Info
Based on author Laura Kasischke's novel The Life Before Her Eyes, House of Sand and Fog director Vadim Perelman's provocative study of memory, morality, and conscience stars Uma Thurman as the guilt-ridden survivor of a harrowing, Columbine-like high-school shooting. To any outsider, Diana (played as a young girl by actress Evan Rachel Wood) and Maureen (Eva Amurri) were polar opposites; Diana was always questioning authority, while Maureen quietly went about fulfilling the expectations of her devoutly religious family. Yet it was precisely theses differences that drew the two girls to one another and found them gradually growing to become best friends. As with any anxious high-school student, Diana and Maureen both existed in that strange grey zone between childhood and adulthood that found them constantly pondering the endless possibilities that awaited them in the outside world. Flash forward years later, and Diana's (played as an adult by Thurman) life isn't anything like she imagined it would be as a young girl. As Diana's traumatic past gradually comes into focus, it soon becomes obvious that she was profoundly affected by a pivotal event that occurred just prior to her high-school graduation. ~ Jason Buchanan, Rovi
Critic Reviews for The Life Before Her Eyes
Audience Reviews for The Life Before Her Eyes
½
This film reminded me of 'Stay'. But while I liked 'Stay', I didn't like this one much. The story is told in an unconventional way, and that's what goes against this movie. It was told in a very complex and confusing way, which while maybe smart and brilliant, but wasn't a fair decision in this case. The ambiguity wasn't applied effectively and I guess that the shoddy screenplay is to be blamed for that. On the other hand, I found the main plot of the movie to be quite impressive. Could have been far better... if only they'd executed it in an appropriate manner!!! The thoughtless and careless use of the subject matter makes the movie rated much lower than what it would otherwise have been worth of.
familiar stranger
Super Reviewer
It's funny how insignificant teenage years seem when you're actually living them. Culture and media tell us that they are the defining years, that we will all look back someday and see them as the turning points in our lives. I'm not totally sure I buy into it, but apparently Vadim Perelman does. We see the days and events that defined Miss Diana's life, and, big surprise, they all occur within those glorious teen years. I wonder if at some point in all of our lives we are completely filled, everything is finally how it should be. Then, something happens and we break, and the moment defines everything else, rewrites everything to happen thereafter. The film is emotionally devastating. Very rarely is a story this intense or affecting. There is a major plot change close to the end of the film and I didn't totally understand it. Depending on how it was to be taken, it sort of changes my perception of the film. Then again, that could have been the point. It is a beautiful, dense film and I really think it would take multiple viewings to understand everything that was communicated, grasp all of the meaning.
½
I had no preconceived ideas about this film going in, other than I had heard that Uma Thurman had given a good turn in a dramatic role, so I was able to sit back and let the film unfold. What appears on the surface to be a story about teen angst and overcoming not only a tragedy, but the mistakes you make in high school, both told in well balanced flash-backs, The Life Before Her Eyes has a plot twist that I found provocative and did not see coming (unlike Shutter Island). I found the script to be intellegent and well crafted and the photography to be sublime. The traumatic tragedy is handled very well, giving you just a hint of gore without wallowing in it. Each flashback to those scenes is just different enough to continue to rachet up the emotional impact. There are themes that continue to fold back into themselves, like the scenes involving rain and water (the photography where you view events from underwater, making what you see somewhat blurry and distorted is wonderful and subliminally telling). I became emotionally invested in the two high shool girls, who are obviously BFF before the term was coined, and found Uma's reflections on those days poignant, as triggered by the 15th year anniversary of the tragic school event. I knew a girl in high school who not only looked a bit like Evan Rachel Wood, but embraced the rebelious, maverick nature she portrayed, so her performance, while a bit uneven, resonated for me, and I found it ironic that her older, more stable self, portrayed by Uma Thurman, was frustrated by her own young rebelious daughter. Unfortunately there are a few scenes that are overwrought and melodramatic, which are all the more out of place when viewed in context with the rest of the film, but for each questionable scene there are moments of brilliance, from the beautifully crafted visuals to the scenes with Uma, as an art teacher, discussing art as a window into the essence of life. I thought that the film had made a misstep when, about 3/4 through, it showed a flashback to the parochial school which had just put crosses on its expansive lawn to protest the abortion clinic in town; again, a beautifully crafted scene of visual impact - but it left me wondering why, with all the emotional baggage, Uma would choose to enroll her own child there. Of course this and the repeated use of Rod Argent's old Zombies song are all revealed in the closing act.
paul sandberg
Super Reviewer
The Life Before Her Eyes Quotes
There are no approved quotes yet for this movie.