Life is a Miracle
(2004)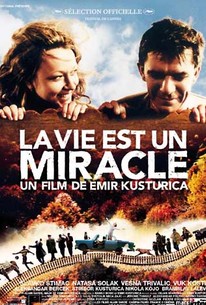 Movie Info
The tragedy of the war in Bosnia makes way for the humor and compassion of people living their lives under difficult circumstances in this comedy drama from filmmaker Emir Kusturica. In 1992, war is brewing in Bosnia, but the city fathers in the town of Golobuci are going ahead with their plans of building a railroad line they hope will bring more visitors into the city. Luka (Slavko Stimac), who is in charge of the construction project, lives with his wife, Jadranka (Vesna Trivalic), a former musician who is suffering from manic depression, and his son, Milos (Vuk Kostic), a talented soccer player who dreams of turning pro some day. After Jadranka has an especially severe episode, Luka takes her to the hospital, where he meets Sabaha (Natasa Solak), a Moslem nurse who quickly develops a nonprofessional interest in Luka. As the clouds of war appear on the horizon, Milos is drafted into the army and Jadranka runs away, and after Sabaha is left with no place to go, she's sent to Luka's place by his friend Aleksic (Stribor Kusturica), where she quickly takes over as both housekeeper and bedmate to Luka. Zivot Je Cudo (aka Life Is a Miracle) was screened in competition at the 2004 Cannes Film Festival.
Critic Reviews for Life is a Miracle
All Critics (5) | Top Critics (1) | Fresh (3) | Rotten (2)
Kusturica se repite a sí mismo y entrega una alocada comedia sobre el amor, la locura y la guerra.
A superb story is drowned out by Kusturica's zany and chaotic style
Kusturica's warm characters inhabit a world that is both absurd and at the same time strangely akin to our own.
Audience Reviews for Life is a Miracle
The shooting of "Život je čudo" lasted thirteen months, from March 2002 to April 2003, without any real pause. Kusturica gave his best even under very unfavourable weather conditions and he had constant rewriting of the scenario... A long version of the film was broadcast on Serbian television in January 2006 (in 6 episodes of 50 minutes). It is not the best Kusturica's movie but it is a realy plausible mix of comedy, romance and tragedy... not many people can follow the complexity of the events which were chaotic during the Yugoslav war and this movie can sometimes come to the edge... ■National Education Prize at the Cannes Film Festival, 2004 ■Audience award at the Melbourne Film Festival, 2004 ■César of the Best film of the European Union, 2005 ■Golden Globe of the Best European Film, 2005 ■Best Balkan film at the Sofia film festival, 2005 These are just some of the prizes this film won... Well, after watching it I'll say: they were right!
Life is a Miracle Quotes
There are no approved quotes yet for this movie.