Life Is Hot in Cracktown
(2009)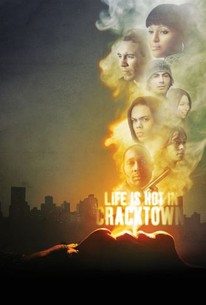 Life Is Hot in Cracktown Photos
Movie Info
Based on writer/director Buddy Giovinazzo's novel of the same name, Life Is Hot in Cracktown explores how crack cocaine infiltrated the streets of urban America by following the journeys of four people whose lives are on a tragic collision course. Pre-op transsexual Marybeth (Kerry Washington) is working as a prostitute in order to save enough money to make her transformation complete. She lives with her lover, Benny, a small-time burglar, whom she hopes to marry after her final operation. Meanwhile, Manny (Victor Rasuk) is busy pulling double shifts while his wife, Concetta (Shannyn Sossamon), cares for their sickly infant son in their run-down apartment. By night Manny works at a 24-hour bodega frequented by junkies, drug dealers, and prostitutes, and by day keeps the peace as a security guard at a welfare hotel. One of the residents at that hotel is Willy, a ten-year-old boy who lives with his mother (Illeana Douglas) and her abusive boyfriend. Willy begs for money on the street so he and Susie can get some fast food. But it's dangerous out there, because volatile gangster Romeo (Evan Ross) is still searching the streets for his brother's killer, and he won't hesitate to terrorize anyone unfortunate enough to cross his warpath. Lara Flynn Boyle, Brandon Routh, Desmond Harrington, and RZA co-star.
Critic Reviews for Life Is Hot in Cracktown
Audience Reviews for Life Is Hot in Cracktown
This is garbage. There's no reason to follow the lives of a single character involved, they're all one-dimensional losers. The writer doesn't convey anything more than an outsider's glimpse into the subject matter. This movie relies on nothing more than shock value, and it's about as subtle as a sledgehammer. All that's on display is a bunch of idiots abusing themselves, children, women, and the elderly. This is void of any artistic value, avoid.
Jason Calvin
Super Reviewer
The great Buddy Giovinazzo returns after a painfully long hiatus with this fantastically titled masterpiece. It's as if Abel Ferrara and Robert Altman joined forces, only with that nihilistic Buddy touch. Each separate story is compelling with great performances all around (I especially like that Desmond Harrington kid. Great actor). The audience really cares about most of the characters, and knowing Buddy is writing their stories, truly fears for their safety. Highly recommended for those who love gritty, depressing and downbeat stories.
Christopher Brown
Super Reviewer
Life Is Hot in Cracktown Quotes
There are no approved quotes yet for this movie.