Life Of Crime
(2014)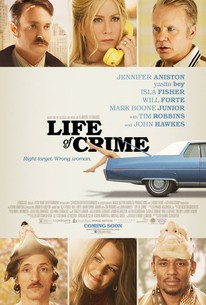 TOMATOMETER
AUDIENCE SCORE
Critic Consensus: It may not stand shoulder-to-shoulder with the best Elmore Leonard adaptations, but Life of Crime has enough ambling charm -- and a sharp enough cast -- to get by.
Movie Info
Based on Elmore Leonard's novel "The Switch," LIFE OF CRIME is a dark caper comedy starring Jennifer Aniston, John Hawkes, Yasiin Bey, Will Forte, Mark Boone Junior, Isla Fisher and Tim Robbins. The wife (JENNIFER ANISTON) of a corrupt real estate developer (TIM ROBBINS) is kidnapped by two common criminals (yasiin bey and JOHN HAWKES), who intend to extort him with inside information about his crooked business and off-shore accounts. But the husband decides he'd actually rather not pay the ransom to get back his wife, setting off an unbelievable sequence of double crosses and plot twists that could only come from the mind of Elmore Leonard. (C) Roadside Attractions
News & Interviews for Life Of Crime
Critic Reviews for Life Of Crime
Audience Reviews for Life Of Crime
Ending felt forced, but aside from that, quite liked this one as this genre goes. Definitely Jennifer Aniston makes the movie.
Nicki Marie
Super Reviewer
½
This isn't a movie that, despite a more than talented and capable cast, never really click for me at all. I just found the narrative itself to be unfocused, like they were never sure just who it was supposed to be about. It's also not a particularly funny movie, despite claiming to be. It certainly has it's funny lines and everything, but it's not what I would call a consistently funny movie. There's a couple of moments, here and there, where you get a chuckle out of it and Frank's unwillingness to give in to the kidnappers' demands is both funny and, really, kind of sad that he'd look at this as a positive since he's so sick and tired of Mickey. I think, mostly, the film is about Mickey's coming to terms with the fact that her marriage, no matter which was she looks at it, is absolutely doomed and that she needs to get out of it one way or another while also getting her own special vengeance on her husband on the way out. This actually leads to the film's single biggest laugh, at the end. It wasn't completely unexpected, but it was still oddly satisfying in its own way. It's just feels empty, like there's not much really going on here despite the fact that there is. It just never moves past a second gear. Once the hostage situation is underway, nothing else really changes in the film. It all stays at the same level. At least, this way, there's no consistency issues. It's not a film with peaks and valleys, but that's also the problem. It doesn't peak, at all, unless you consider the last scene a peak. Of course, by this point, it's simply too late to impact the film one way or another. It's not poorly made, not at all. It's got some great costume design and it features one of Jennifer Aniston's best performances, not saying a lot, I know, but she's still good here. Everyone is good here, though. That's not the problem. I just think the cast lets them down with an incredibly empty script. It's not that I would say it overstays its welcome, I think it's actually well-paced for a film that has next to nothing going on for it, but it does move along at a nice pace. Shame really, because the cast does do a good job with what they're given, it's just that they're not given much to work with. I don't know if I'm honestly being too kind in giving it 2.5 stars. A lot of that is technical aspects and cast performances, but it's a movie that you can kind of enjoy, even though it's average. I don't think it's really that enjoyable on a number of levels. So there's that. Not particularly recommended.
Jesse Ortega
Super Reviewer
Based on an Elmore Leonard novel, Life of Crime is a clever and entertaining thriller. The story follows three small-time criminals who kidnap and ransom a real estate developer's wife, but their plan starts to fall apart when the developer refuses to pay. Starring Jennifer Aniston, Tim Robbins, Isla Fisher, and Mos Def, the film has a solid cast. The script is also pretty good, and is able to bring in some light humor while still keeping an element of danger and suspense. Yet it takes a while for the plot to get going, and there are some extraneous elements that hold it back. However, despite a few weak spots Life of Crime is a rather fun and exciting film.
Dann Michalski
Super Reviewer
Life Of Crime Quotes
There are no approved quotes yet for this movie.