The Life of David Gale
(2003)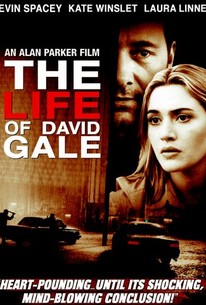 TOMATOMETER
AUDIENCE SCORE
Critic Consensus: Instead of offering a convincing argument against the death penalty, this implausible, convoluted thriller pounds the viewer over the head with its message.
The Life of David Gale Photos
Movie Info
The mystery of one man's guilt or innocence literally becomes a matter of life and death in this drama. David Gale (Kevin Spacey) was the head of the philosophy department at Austin University and the author of several well-regarded books; he was also an active and visible member of Deathwatch, an anti-capital punishment activist group. One of Gale's best friends was Constance Harraway (Laura Linney), a fellow Deathwatch activist with whom he became especially close, particularly since Gale's wife, Sharon (Elizabeth Gast), who had taken a lover in Spain, was usually absent. One night, Gale was seduced by an attractive student from his class, Berlin (Rhona Mitra), who had too much to drink; later, the remorseful student accused Gale of rape. While Gale was eventually cleared of the charges, the negative publicity cost him his career as an educator, and with no job and no wife, Gale turned to drink. When Harraway was found raped and murdered a few years later, Gale was charged with the crime, and convicted despite the best efforts of his well-meaning but ineffectual lawyer Braxton Belyeu (Leon Rippy). Now Gale awaits execution, and less than a week before his date with the fatal injection, Gale agrees to tell his story to Bitsey Bloom (Kate Winslet), a nervy journalist from a major newsmagazine, who arrives with her assistant, Zack Stemmons (Gabriel Mann). As Bloom discusses the facts of the Harraway murder with Gale, it occurs to her that the details simply don't add up, and soon a mysterious stranger slips evidence to her that suggests Gale has been framed -- leaving Bloom and Stemmons only a few days to solve the mystery and save Gale from the executioner. The Life of David Gale was co-produced by actor Nicolas Cage, who originally commissioned the script and intended to star in the film before prior commitments led him to hand the project over to director Alan Parker.
Critic Reviews for The Life of David Gale
Audience Reviews for The Life of David Gale
½
i really enjoyed this movie i thought it was very interesting and twist turning with a great storyline and plot. I liked how the story was focussed on trying to get point across, that innocent people do get murdered unjustly within the death penalty counties of america.
Film Crazy
Super Reviewer
½
The critic community seemed hell-bound to pin down this movie as one belonging to the trash bag. The story about anti-capital-punishment activist David Gale, deals with an unpleasant issue, kind of an issue that no one really want to know the answer of. The film may have failed in terms of moral grounds in the eyes of its detractors, may be a reason why it has gotten so much bad press. But, this is also the story of a man whose life just went off the rails for all the wrong reasons, who wants to do something for the world before he leaves. In that perspective, this was a decent enough flick or even, I dare say rather inspiring. That being said, the movie is not without it's glitches. A not so challenging role for Kate Winslet considering her abilities, occasionally flawed narrative and an annoying background score which did'nt seem to connect anyway to the premise of the movie.
Cast: Kevin Spacey, Kate Winslet, Laura Linney, Gabriel Mann, Rhona Mitra, Leon Rippy, Matt Craven, Jim Beaver, Elizabeth Gast, Cleo King, Constance Jones, Brandy Little, Cindy Waite, Jesse De Luna, Vernon Grote Director: Alan Parker Summary: When Texas professor David Gale (Kevin Spacey), an advocate for the elimination of the death penalty, is falsely accused and convicted of the rape and murder of another activist (Laura Linney), he ends up on the state's notorious death row himself. In a series of flashbacks, Gale tells his story to a young reporter (Kate Winslet) who's visiting him on death row, leaving her to sort out his guilt or innocence. My Thoughts: "This has to be (in my opinion) one of the best suspense films I have seen. It's messy, doesn't really develop the characters that well, but I don't think its needed. It's not telling the story of these people, it's telling the story of the events that have happened in David Gales life that led him to where he's at. Great suspense all the way till the end. Never knew where the story was going and the ending was brilliant. The measures that they went to, to prove their point was extreme, but brilliantly done. It's a smart messy film with great performances by (my fav) Kevin Spacey, Kate Winslet, and Laura Linney. It's a must see in my opinion, so see it if you haven't."
♥˩ƳИИ ƜѲѲƉƧ♥
Super Reviewer
The Life of David Gale Quotes
There are no approved quotes yet for this movie.