The Life of Emile Zola
(1937)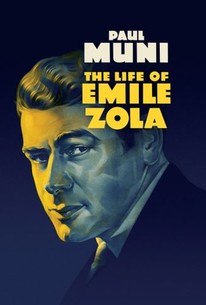 TOMATOMETER
AUDIENCE SCORE
Critic Consensus: Well-written, well-meaning and solidly acted, The Life of Emile Zola film may ultimately be more earnest than dramatically engaging.
The Life of Emile Zola Photos
Movie Info
This biographical film opens with French novelist Emile Zola starving in a Parisian garret. Each time Zola attempts to write "the truth," he is stymied by governmental censors. Still, he is able to achieve both fame and fortune with the publication of Nana, an unadorned tale of a prostitute.
Critic Reviews for The Life of Emile Zola
Audience Reviews for The Life of Emile Zola
½
In 1862, Emile Zola(Paul Muni) and his friend Paul Cezanne(Vladimir Sokoloff) are a pair of starving and freezing artists trying to survive in Paris. Even a regular job in a bookstore does not last long for Zola. What does change Zola's fortunes is an opportune encounter with Nana(Edna O'Brien Moore) after they save her from arrest by the police. After which, she relays her story of woe which inspires Zola to write a novel. That turns out to be the first of many bestsellers for him and the beginning of a very comfortable life. And then there is the case of Alfred Dreyfus(Joseph Schildkraut). Despite its title, "The Life of Emile Zola" is really not a biopic. Rather, its first thirty minutes about Zola's rise to fame just serves as a prelude to its take on the Alfred Dreyfus case which might have been still controversial at the time this was made. As such, this movie makes an excellent case for the role of the artist in society being a socially conscious one to which it provides a prime example. That comes complete with rousing speeches, very good performances and crowd scenes which Shakespeare would be proud of.
This film is based on the life/work of French writer and activist Emile Zola. It starts out as a stand biopic, but then becomes a stirring courtroom drama, as it focuses on one of the most important events of Zola's life: his condemnation of antisemitism that led to the wrongful accusement of army officer Alfred Dreyfuss, in what is known as the Dreyfuss Affair. Through tireless determination and effort, Zola helped to get Dreyfus exonerated, though he himself was wrongfully charged with libel, mostly because of corruption and shady doings. I had known little about Zola before seeing this, and was only marginally familiar with the Dreyfus Affair. The good thing about this movie is that you can still appreciate it without needing in depth knowledge prior to seeing it. It takes a fair amount of liberties with things, and unfortunately it fails to really point the finger at antisemitism, though it makes up for it by being a very stinging condemnation of mob mentality instead. Aside from that, this is a fine film filled with great music from Max Steiner, and some really goosd performances from Paul Muni and many of the supporting players, many who sometimes upstage him. I enjoyed this, but I might need to give it a second viewing, as I kept getting interrupted and didn't get to enjoy it in piece. For an oldie (depsite its flaws) it's pretty good. Give it a watch.
Chris Weber
Super Reviewer
½
Creaky biopic of an interesting and worthwhile story. Keeping in perspective when it was made the film is not bad, Muni a fine actor when not in costume, say in Chain Gang, brings the hambone out as Zola ages and many of the rest of the cast are stiff and overly grand. However it is incredible that this middling film won Best Picture over the original A Star is Born, Stage Door and the Awful Truth!!
The Life of Emile Zola Quotes
There are no approved quotes yet for this movie.