Life or Something Like It
(2002)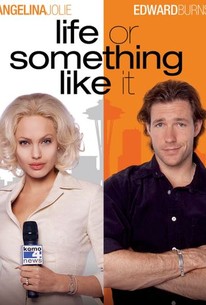 TOMATOMETER
AUDIENCE SCORE
Critic Consensus: Though Jolie is appealing, Life or Something Like It is too contrived and predictable to convincingly convey its message of stopping to smell the roses.
Life or Something Like It Photos
Movie Info
An egotistical TV reporter learns to appreciate the good things in life thanks to an eccentric, homeless clairvoyant in this old-fashioned romantic comedy from director Stephen Herek (Mr. Holland's Opus). Seattle native Lanie Kerrigan (Angelina Jolie) has spent most of her adult existence trying to live down her gawky, geeky adolescence: She toils for hours at the gym to keep cellulite at bay; she's managed to snag an engagement to a star baseball player (Christian Kane); and through her chipper puff pieces on the nightly news, she's cultivated a loyal following of couch potatoes who pester her for autographs. She's ready to take the next step to national news when her boss suggests she further hone her skills with ace cameraman Pete Scanlon (Edward Burns), who also happens to be an old flame of Lanie's. Her comfortable but shallow existence begins to change the moment she and Pete do a story on Prophet Jack (Tony Shaloub), a sage soothsayer who spouts unusually accurate predictions to passers-by in exchange for spare change. Jack offers up the theory that Lanie will not get her cushy promotion; in fact, he says she'll die within a week. When Jack's other prophecies start coming true, Lanie starts living each day as if it were her last -- much to the dismay of her co-workers and her fiancé. ~ Michael Hastings, Rovi
Critic Reviews for Life or Something Like It
Audience Reviews for Life or Something Like It
Not that bad of a film and you really can't predict the ending at all.
Bethany Murphy
Super Reviewer
½
Angelina is told she's going to die by a tramp and so sets about learning what's "important" in life by shagging a flat, characterless bloke who uses his young estranged son to get in her pants, and making Stockard Channing cry on national TV. I feel positively enlightened. The only appeal to this tackily directed piffle is Ms. Jolies easiness on the eye. Except in this she looks like a heroin addict with Margaret Thatcher's hair do.
As a huge fan of Angelina, I read about this movie and I thought "What the hell? Oh, I bet this is gonna be lame... nice title." but after a while I started wanting to see it more and more until on opening night I HAD to go. And I have to say the movie wasn't awful.. and it wasn't, like, the best movie I've ever seen. But it was fun.. I loved it.. and I'd definitely like to watch it again. The scene where the crowd was singing was kind of stupid and unrealistic.. but it was funny.. and like a lot of things I couldn't stop laughing at it. Haha. This is the kind of movie you watch when you just want to have some fun with a bunch of friends.. and if that's all your looking for then you'll love it too. Angelina was awesome, as usual, and the rest of the cast did pretty good too. If you thought this was a bad movie then you're probably just expecting too much from it. I thought it was great!
Cassandra Maples
Super Reviewer
Life or Something Like It Quotes
There are no approved quotes yet for this movie.