Lightning Bug
(2004)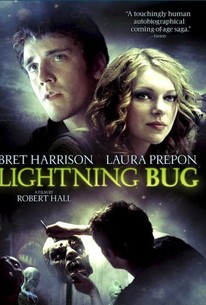 Movie Info
Robert Hall's drama Lightning Bug concerns a young man trapped in a small southern town with an abusive stepfather. The young man has developed a remarkable facility at creating make-up effects for horror films, and he hopes these skills will get him out of the town were his work is unappreciated by the religious zealots in the town. However his relationship with a pretty girl who wants to stay right where she is may be the one thing to keep him from following his dream.
News & Interviews for Lightning Bug
Critic Reviews for Lightning Bug
Audience Reviews for Lightning Bug
½
Originally thought this was a horror, but it's a drama. Original storyline and great cast. I liked that it was set in a small town in the 80's. I loved that they still had an actual video store and the main character was a horror nut who made figures. Laura Prepon was excellent and the actress who played her mother - wow, whacked out, but so convincing! The ending was a bit of a letdown, but overall I really enjoyed this.
Nicki Marie
Super Reviewer
Liked the Soundtrack & as long as it's the same as I heard in the movie I want it.. nice Classic rock & the likes of those I also grew up with (geez according to VH! Classic MY Rock like G-n-R counts as 'Classic' rock now too! ?) I still say the good guy is one part Elvis & 3 parts jay Leno Look at the face & hair! The movie was ok with a slight twist in a way I guess C
Kym (c my community profile) Ragarsson
Super Reviewer
This is a slow movie but still it will hold your interest. This movie is all Alabama. A young boy is dislikes his childhood, his town, and his mother's abusive boyfriend. He is a horror makeup Artist and lands a job at a local farmers attempt to set up a horror house for Halloween. The barn and pig scene is Hilarious. Worth the watch for that moment alone. After getting near complete someone destroys his work. There isn't much real horror in this movie but a number of laughable moments. 3 stars a good rental, pass the buy.
Bruce Bruce
Super Reviewer
Lightning Bug Quotes
There are no approved quotes yet for this movie.