Like Dandelion Dust
(2010)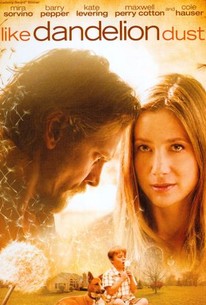 Like Dandelion Dust Photos
Movie Info
Academy Award winner Mira Sorvino and Barry Pepper star in My Date with Drew director Jon Gunn's heart-wrenching tale of a recently released ex-con who uses a legal loophole to locate his son, who was adopted by an upper-crust family shortly after his father was incarcerated. When Rip Porter (Pepper) went to prison, his wife, Wendy (Sorvino), couldn't handle the responsibilities of being a single parent. Wanting the best for her newborn son, Joey, she put the boy up for adoption. Adopted by Jack (Cole Hauser) and Molly Campbell (Kate Levering), Joey now enjoys an idyllic life with his new parents in a small town just outside of West Palm Beach, FL. Then, one day, Jack and Molly receive a troubling phone call from the social worker who assisted with the adoption: Rip has just been released from prison, and he's eager to start a new life with his wife Wendy and son Joey (Maxwell Perry Cotton). A judge has just issued a ruling stating that the Campbells have no choice but to return Joey to his biological parents -- but what if Jack and Molly were simply to disappear with Joey, like dandelion dust, never to be seen again? The film is adapted from the best-selling novel by Karen Kingsbury. ~ Jason Buchanan, Rovi
Critic Reviews for Like Dandelion Dust
Audience Reviews for Like Dandelion Dust
½
"LIKE DANDELION DUST" is an emotive family drama that could have easily been renamed "The Underrated Actor's Club." Barry Pepper, Mira Sorvino, and the equally strong Cole Hauser are all phenomenal here, and display full well why it's a crime they aren't bigger names in the business. Pepper and Sorvino (provided with the more showy roles) are particularly award worthy; it's just a shame the film itself flew so far under the radar. This isn't a movie to see because of it's filmmaking or any other technical merit; it's one to see for it's faultless ensemble and it's simple story that hits home. Sure to go down lost in the anals of cinema, "Like Dandelion Dust" nevertheless deserves to find an audience.
½
An emotional drama which neither has enough emotional moments nor comic situations (the humor quotient which is generally present in this kind of film). An unoriginal plot and dull execution are its major flaws. As for the performances, I only found the kid playing Joey worth a mention!!!
familiar stranger
Super Reviewer
½
Cast: Mira Sorvino, Barry Pepper, Cole Hauser, Kate Levering, Maxwell Perry Cotton, L. Scott Caldwell, Abby Brammell, Kirk B.R. Woller, Brett Rice, Brooke Bryan Director: Jon Gunn Summary: Jack (Cole Hauser) and Molly Campbell (Kate Levering) are horrified to learn that the biological father (Barry Pepper) of their adopted son, Joey (Maxwell Perry Cotton), has been released from prison and wants custody of the boy. As the legal case builds against the Campbells, the couple hatches a risky plan to save their family. My Thoughts: "What an amazing, powerful, emotional film. The story is done with such heart and depth that you get swept away in it. The suffering and pain coming from both sets of parents is overwhelming. You can't help but feel for all four of them, including the confused son that is thrown in the middle of it. I had a hard time keeping a dry eye in this film. It just hits hard for those who are not just adopted parents, but just parents alone. The performances are exceptional by all but Mira Sorvino is just brilliant in the film. Barry Pepper turns in a great performance as well. The film didn't have a very big release and not many people have heard of the film. But I guarantee it is not one to be missed or overlooked."
♥˩ƳИИ ƜѲѲƉƧ♥
Super Reviewer
Like Dandelion Dust Quotes
| | |
| --- | --- |
| Wendy Porter: | He has two mothers, one that loved him so much that she couldn't let him go, and one that loved him so much that she had to. |
| | |
| --- | --- |
| Rip Porter: | We need to get our son back. |
| | |
| --- | --- |
| Wendy Porter: | After you went away I found out I was pregnant. |