Like Stars on Earth
(2007)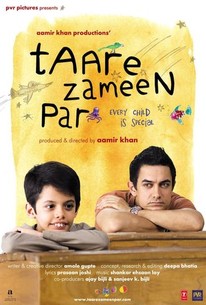 Like Stars on Earth Photos
Movie Info
A young boy prone to colorful flights of fancy finds his hyperactive imagination may serve a greater purpose after being sent away to boarding school by his frustrated parents. Ishaan Awasthi is an eight-year-old boy who dedicates more time to dreaming up wondrous worlds of animals and kites than he does to finishing up his schoolwork. When Ishaan gets in trouble at school and his parents reach the end of their rope, it's quickly decided that the best thing for everyone is to send the boy away to a school where he can be properly disciplined. Upon arriving at his new school, Ishaan is disheartened to find that things there are much the same as they were back home; he's still a misfit, but now he doesn't even have his parents to talk to. Later, newly arrived art teacher Ram Shankar Nikumbh arrives at Ishaan's boarding school looking to liven things up by getting his students to think outside the box. Not surprisingly, the vast majority of students respond to their free-thinking new teacher with great enthusiasm -- all except for Ishaan, that is. When Ram notices just how unhappy his most imaginative young student really is, he vows to break through to Ishaan and unlock the promising young student's full potential. ~ Jason Buchanan, Rovi
Critic Reviews for Like Stars on Earth
Audience Reviews for Like Stars on Earth
An extraordinary and magical film that should open the eyes of more and more people to a serious developmental disorder and the pain caused to many children who suffer from it - and it shows how sometimes it takes one person to care and make a difference in someone's life.
Carlos Magalhães
Super Reviewer
½
LIKE STARS ON EARTH: I remembered one reviewer stating they had tears of joy from this movie. They were right on... this is a beautiful film. There were a couple of quirky parts, but it fit well with the overall mood. Told through the eyes of a school age Indian boy, this Bollywood film addresses societies need to see each child as unique, and special. The superb acting by the main character Ishaan, with direction by Aamir Khan, makes the film uniquely superb.
Cynthia S.
Super Reviewer
Touching, Amazing, Extraordinary By far the best Indian movie i have ever seen, A real cinematographic picture, something so heart warming that it will take you to cinem'extasy. The movie is based on a 8 year old who suffers from ADD and dyslexia, unfortunately his parents dont see that, and come about the situation by taking him to boarding school. A mixture of "The Wall" in terms of Education and "Dead poets society" the movie is Beautiful I was shocked to see an 8 year old act so well like Safary, the movie wraps up amazing actors, who are really realistic and have a sensibility. Although the 4 hour plot, not one bit will you be bored . Amazing Soundtrack, and Scenery, this movie is by far one of the best movies in the education category, it will make you laugh and cry, and most important it will inspire you. So forget that all the Indian movies follow the Bollywood style, and take a chance, its about time we give these movies a chance, and as i did it, i dont regret one bit. Ram Shankar Nikumbh: lf you fancy racing, breed racehorses, dammit, not children.
Pedro Holanda
Super Reviewer
Like Stars on Earth Quotes
| | |
| --- | --- |
| Nikumbh Sir: | There have been such gems amongst us, who changed the course of the world, because they could look at the world differently. Their thinking was unique and not everyone understood them. They were opposed, yet they emerged winners and the world was amazed. |
| | |
| --- | --- |
| Nikumbh Sir: | Life is really not about getting the top grades and competing with others, donâ??t try stretching all the fingers; they might break! Sometimes in life, it is healhty to be slow and dumb. |
| Nikumbh Sir: | Life is really not about getting the top grades and competing with others, don't try stretching all the fingers; they might break! Sometimes in life, it is healhty to be slow and dumb. |
| | |
| --- | --- |
| Nikumbh Sir: | On the Solomon islands, when the tribes need to clear the jungle to make way for fields, they donâ??t cut down the trees , they simply gather and collect around it, and hurl abuses at the tree, they curse it. Slowly but surely, after some days, the trees begin to wither. It dies on its own |
| Nikumbh Sir: | On the Solomon islands, when the tribes need to clear the jungle to make way for fields, they don't cut down the trees , they simply gather and collect around it, and hurl abuses at the tree, they curse it. Slowly but surely, after some days, the trees begin to wither. It dies on its own. |