Lila Says
(2005)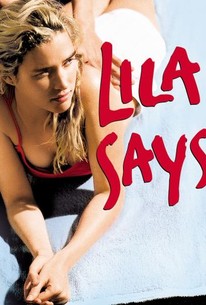 Movie Info
A self-styled bad girl leads a teenage boy down a frustrating path in this drama from France. Chimo Jarjoura (Mohammed Khouas) is a 19-year-old student living in Marseilles. Chimo likes to write and has genuine talent, but he hasn't been able to break away from his friends Mouloud (Karim Ben Haddou), Big Jo (Houd Dkhissi), and Bakary (Lofti Chakri), who are more interested in petty crime than in building a future and are suspicious of Chimo's non-Muslim teachers. One day Chimo meets a 16-year-old girl named Lila (Vahina Giocante), and is immediately smitten, especially when she makes it clear she's attracted to him. However, while Chimo falls head over heels for Lila, he soon discovers she's far more interested in talk than action, and that she isn't eager to limit her attentions to one man. Lila Says made its North American debut at the 2004 Toronto Film Festival. ~ Mark Deming, Rovi
Critic Reviews for Lila Says
Audience Reviews for Lila Says
½
For the most part a fantastic tale of interracial romance during a time of suspicion and conflict. The Arabs are seen as terrorists or luxurious accessories for French women. Lila (obvious similarity to Lolita) is a sexually awakened girl. She talks confidently and with pride about her sexual encounters and fantasies. This doesn't sit easy with the young man who has fallen for her. Chimo must constantly deal with his arrogant and testosterone fueled friends. The final scenes are heartbreaking if slightly obvious and the character of Mouloud is really a device as opposed to a person. Though he is obviously offended by the way his people are treated he seems to go too far without explanation. Whether it's his lust for Lila or his jealousy of Chimo that spurns him on is left blank and us unfulfilled. The setting in a poor area of Marseilles is bitter sweet in its beauty of narrow streets and tall buildings. Excellent performances from Giocante and Khouas create a well built chemistry that plays out believably until the end credits.
Luke Baldock
Super Reviewer
½
An interesting movie! A story of coming of age and discovering love for the first time. Chimo is young and indecisive about choices in life, but everything changes when he meets Lila. He begins to see things differently, and starts to act and not just dream. Great! Intriguing story plot. Great music! Nitin Sawhney does not disappoint. A must-see!
½
[font=Century Gothic]In "Lila Says", Chimo(Mohammed Khouas) is a 19-year old living a dead end life with his mother(Carmen Lebbos) while his hanging out with friends occasionally enters the realm of petty crime. His teacher(Stephanie Fatout) thinks he has a talent for writing and wants him to apply to a prestigious school in Paris but Chimo feels that he has nothing to write about. That all changes when Lila(Vahina Giocante), a sexually precocious teenager with a penchant for exposing herself, moves into the neighborhood...[/font] [font=Century Gothic][/font] [font=Century Gothic]"Lila Says" is an unexpectedly poignant movie about first love and how we learn to express ourselves.(For example, Lila expresses herself sexually while Chimo has no idea until Lila shows up. But I've seen too many independent movies to know better and a single line of dialogue from "Orlando" singlehandledly refutes the whole theory behind muses.) And the movie does err by being predictable and trying to have an explanation for almost everything.[/font]
Lila Says Quotes
There are no approved quotes yet for this movie.