Lilja 4-ever
(2003)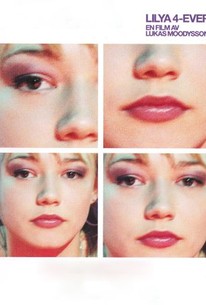 Movie Info
A teenager abandoned by her family slips into a downward spiral of sex and degradation in this frank drama from Sweden. Lilya (Oksana Akinshina) is a 16-year-old girl growing up in poverty in the former Soviet Union. Lilya's mother (Lyubov Agapova) is moving to the United States with her new boyfriend, and Lilya has been told she'll be coming with them. However, at the last minute Lilya is informed she'll be staying behind with her aunt Anna (Liliya Shinkaryova), and she'll be joining her mother later on. Anna immediately takes over the apartment Lilya shared with her mother, and moves her niece into a much smaller (and dirtier) flat several blocks away. For the most part left on her own, Lilya spends much of her time with her best friend, Natasha (Elina Benenson), and comes to the rescue of Volodya (Artiom Bogucharski), a suicidal 14-year-old boy who has been thrown out of his home and has a serious problem with alcohol and drugs. One night at a nightclub, Natasha meets a man who is willing to pay her for sex; when her father finds the money, Natasha claims it belongs to Lilya, and the story soon spreads that Lilya is a prostitute. When Lilya learns that her mother has no intention of bringing her to the United States, she becomes despondent and begins sleeping with men for money. Not long after taking up the sex trade she meets Andrei (Pavel Ponomaryov), who promises her a better and easier life if she'll come to Sweden with him. However, Lilya learns the hard way that there's no truth in Andrei's words as she is subjected to the lowest and most degrading levels of the sex-for-hire business.
Critic Reviews for Lilja 4-ever
Audience Reviews for Lilja 4-ever
A tragic and devastating film that should make us aware of something horrific that happens to so many teenage girls in Eastern Europe, and if you decide to watch it without knowing anything about it, it may perhaps be an even more shocking and compelling experience.
Carlos Magalhães
Super Reviewer
Kicking off with some Rammstein, Lilya 4-Ever demands your attention before settling down. It doesn't rain, it pisses it down in Lilya 4-Ever. A dark and depressing drama set in Eastern Europe. Lilya is a young girl with dreams of escaping her impoverished lifestyle. She believes that she is moving to America with her mother and her new boyfriend. Instead she is abandoned and soon finds life to be dark and cruel. Everybody takes advantage of her, from her best friend to her own auntie. Lilya becomes life's punching bag. It soon makes her bitter and prefers hope over logic. She ignores the warnings of the only other decent character in the story. A young boy who tries to make her question the promises others make. Certainly not empowering, nor is it enjoyable. What Lilya 4-Ever does offer, is an unsentimental portrayal of betrayal. A beautiful look at some very ugly truths.
Luke Baldock
Super Reviewer
A masterpiece made by a talented swedish director. If this movie doesn't get some emotions from you, you probably have a heart of stone... An amateur cast provides nothing less than an all-star performance.