Limbo
(1999)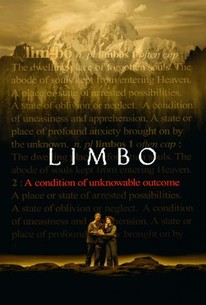 Movie Info
Writer/director John Sayles once again takes his audience to a place they may never have been before (this time both psychologically and geographically). Joe Gastineau (David Strathairn) lives in Juneau, Alaska, where his life has been stuck in neutral for about 25 years. When he was young, Joe was involved in an accident on a fishing boat that led to the death of two crewmembers, and he's never recovered from the blow. When Joe meets Donna De Angelo (Mary Elizabeth Mastrantonio), however, he starts to come out of his shell. Donna is a lounge singer who goes from job to job, wherever she can get work. Her life has been built around being able to pick herself up when she falls and learning to be comfortable wherever she lands -- a gift that her teenage daughter, Noelle (Vanessa Martinez), does not share. Donna and Joe become attracted to each other, and her example leads Joe to take a job on a boat again. However, just as Joe's life is starting to get back on track, his ne'er-do-well half-brother Bobby (Casey Siemaszko) arrives to ask Joe a favor. One disaster leads to another, and Joe soon finds himself stranded on an island with Donna and Noelle, trying to hide from a group of men out to kill him. Shot on location in Alaska by award-winning cinematographer Haskell Wexler, Limbo also features a soundtrack with a new song by Bruce Springsteen, "Lift Me Up"; Sayles directed three Springsteen music videos in the 1980s.
News & Interviews for Limbo
Audience Reviews for Limbo
John Sayles' Limbo is a fascinating film on many levels. It's a drama in the truest sense of the word, with interesting characters, relate-able situations, realistic world building, and character dynamics that interweave seamlessly to create a really compelling story. At the same time, Limbo is markedly different from other dramas. It utilizes a unique narrative format, unconventional in its approach. It shifts between characters, juxtaposed with other story-lines, but all in an inner-connected and coherent way. So unconventional is this approach, that Limbo almost mesmerizes the viewer with its story and themes. We are never so much concerned about the plot developments as we are the characters themselves, and how they are feeling in any given moment, a hallmark of excellent direction, and any intelligent drama. As such, Limbo's script is both intelligent and often ingenious. It clearly has a point, but underscores it in a very subtle way. The dialogue took a while to get used to, but remains consistent and true to itself, in such a sort of stylized way, that it becomes part of the film. The acting in Limbo is also quite strong, with a terrific ensemble cast. This is headlined mainly by the underrated David Strathairn, with one of the best dialed-down (as his characters often are) performances of his career. He is matched well with Mary Mastranton and Vanessa Martinez, in an especially impressive performance. The one aspect of Limbo that some are bound not to like is it's ambiguous ending. Some may look at it as a cop-out. Such criticisms are valid to an extent, although I found it daring. Had the film not earned the moment, I'd be upset, but, as it were, it felt in-line with what the film was trying to convey, an enormous sense of uncertainly, with both characters and the physical world. 4/5 Stars
Jeffrey Meyers
Super Reviewer
½
An ex-fisherman falls in love with a singer, but their relationship is tested when they are stranded in the Alaskan hinterland. This film is two films in one. The first is a continuation of Silver City set in Alaska, and the second is a mildly compelling survival tale. I side with the anti-corporate political points director John Sayles elaborates on in the first part of the film, but like Silver City and anything Richard Linklater has ever done, the politics seem preachy and aren't especially compelling as a story. The survival tale is pretty good, but it doesn't reach the levels that films like The Edge or even the less compelling 127 Hours. Other critics have called the ending of the film "contrived" and a "cop-out," and only because they have commented on it, I'll weigh in with my agreement. Sure, the ending fits with the title and maybe even the film's theme (this is a place in between modernity and tradition), but I ultimately just rolled my eyes during the credits. Overall, I think fans of John Sayles know what they're getting, and most people would only find this film because they like Sayles.
Jim Hunter
Super Reviewer
An absorbing story about appealing, rounded characters. The more you think about the way it ends, the more you realise that any other ending would betray the purpose of the story.
Robert Fearon
Super Reviewer
Limbo Quotes
There are no approved quotes yet for this movie.