The Limey
(1999)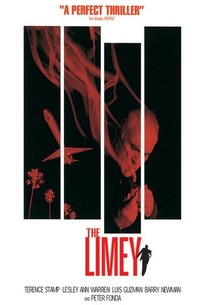 TOMATOMETER
AUDIENCE SCORE
Critic Consensus: Crafted with eccentric moodiness and style by Steven Soderbergh, The Limey is also a gritty neo-noir showcase for the talent of leading man Terence Stamp.
Movie Info
Two actors best known for their work in the late 1960s, Terence Stamp and Peter Fonda, star in The Limey, a drama in which a recently released felon contemplates the gulf between aging criminals like himself and their modern counterparts. Wilson (Stamp) is a British career criminal who has been released after nine years in prison. He has learned that his daughter Jenny died under suspicious circumstances in Los Angeles, so he travels to America for the first time to find out what happened and who's responsible. With the help of an ex-con named Ed (Luis Guzman), Wilson discovers Jenny was romantically involved with Valentine (Fonda), a middle-aged record producer with a shady past and a fondness for young women. In hopes of getting the truth -- and getting to Valentine -- Wilson finds himself doing battle with some of the worst criminals to crawl from the underbelly of Los Angeles; along the way, he also meets Elaine (Lesley Ann Warren), an older actress who knew Jenny and reminds Wilson of how little he really did for his daughter while she was alive. Steven Soderbergh's first film after his commercial comeback with 1998's Out Of Sight, The Limey features, along with Stamp and Fonda, two other notable 60's actors in supporting roles, Barry Newman and Joe Dallesandro. ~ Mark Deming, Rovi
News & Interviews for The Limey
Critic Reviews for The Limey
Audience Reviews for The Limey
This is the classic revenge thriller, as tweaked by Steven Soderbergh. Terence Stamp stars as WIlson, the titular character, who is a recently released career criminal who travels to Los Angeles to investigate the death of his estranged daughter, whom he is told died of mysterious circumstances. Besides being about a man who is out for straight up vengeance, and really not much more, it also touches upon the divide between old school criminals like Wilson, and their modern day counterparts. The film is pretty clear cut, and Soderbergh is maybe one of the few directors who can really get away with such a basic, single minded premise with not much else backing it up. Even though the film doesn't have much depth to it, it oozes style, mood, and tone, and is really rather mesmerizing. I also liked how the film is a meeting of two titans of 60s cinema, with the British Stamp going up against America's Peter Fonda as the shady record producer Valentine who was involved with Wilson's daughter, and is thus the prime suspect in her "accidental" death. Both are amazing, but this is easily Stamp's film through and through, and a real showcase for him. Luis Guzman is pretty terrific as Ed, an acquaintance of Wilson's daughter, and perhaps the only person he can trust. He's pretty much the guiding light here, as he;s the one who contacted Wilson about his daughter, and provides him basically everything he needs to complete his quest. Barry Newman is also pretty awesome as Avery, Valentine's chief of security. Nicky Katt also makes a brief appearance as a hitman associated with Avery, but he could have been used a little more. He's good for how much we get him, though. Being a Soderbergh film, it's got a great amount of style, slick production values, and is shot masterfully. Some of the proceedings get rather dark and intense, but thankfully there's a nice undercurrent of sly humor. One of the coolest things going on here is the creative integration of footage from an old Stamp film from the 60s as bits of flashback sequences. This really isn't a deep film, and while it is pretty cut and dried, and just a variation on a theme, it's somehow gets a pass because Soderbergh just has this touch that elevates even the most unoriginal concept into something fresh and entertaining.
Chris Weber
Super Reviewer
½
If it weren't for the assured direction of Soderbergh, 'The Limey' would be a simply forgettable film. In a way, it kind of is. Stamp's performance is a little sketchy and the script a little rugged, but Soderbergh's thriller has a tasteful touch of noir that does it a solid amount of good.
Kase Vollebregt
Super Reviewer
I rarely like these new stylistic thrillers from directors like Soderbergh, but this had a great story and great actors starring in it. I should watch it again soon.
The Limey Quotes
| | |
| --- | --- |
| Valentine: | Have you ever dreamed about a place you never recalled being to before? Maybe it only exists in your imagination, someplace far away, half remembered. When you were there though, you knew the language, you knew your way around. That was the sixties. |
| | |
| --- | --- |
| Stacy: | You'd watch a show called "Big Fat Guy", right? I'd watch that show. |
| Stacy: | You'd watch a show called 'Big Fat Guy', right? I'd watch that show. |
| | |
| --- | --- |
| Wilson: | You tell him- you tell him I'm coming! Tell him I'm f***ing coming! |