The Limits of Control
(2009)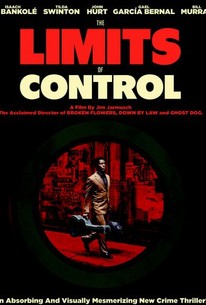 TOMATOMETER
AUDIENCE SCORE
Critic Consensus: A minimalist exercise in not much of anything, The Limits of Control is a tedious viewing experience with little reward.
The Limits of Control Photos
Movie Info
The story follows a mysterious loner, a stranger to all, whose activities and workings remain meticulously outside the law. He is currently in the process of completing a job and trusts no one, while his objectives initially remain unrevealed. His journey, paradoxically both intently focused and dreamlike, takes him not only across Spain but also through his own consciousness. The film uses no names and refers to all characters by description and appearances only.
Critic Reviews for The Limits of Control
Audience Reviews for The Limits of Control
½
I think my friend and fellow Flixster reviewer rthornhill said it best with his take on this film: "slow, repetitious, minimalistic..... yet strangely intriguing". This is another low key and atmospheric mood piece by Jim Jarmusch, although I think all of his films could be described that way. This follows a lone wolf criminal type on assignment in Spain. He keeps a pretty strict and meticulous routine, and is pretty set in his ways. Along the way he meets an assortment of individuals who give him information and conversation about a variety of topics (all of it pretty vague and cryptic) that serve as both part of his work, and as things to think about. Even as a fan of Jarmusch's work, I found this one to be pretty tough to sit through. It's slow, quiet, largely uneventful, but still oddly captivating and mesmerizing. I definitely wouldn't recommend this as a starting point for Jarmusch neophytes. Even though the film was apparently written in a very short amount of time (and it shows), it is very well shot, features beautiful locations, and has a top notch ensemble cast, even though most are only in it for a bit, and none of them are really fleshed out. I also really dug the soundtrack, with most of it being done by Japanese experimental/ambient art rock group Boris. The music is very fitting, and is nice to listen to, especially if you want undistracting background tunes. I suppose the performances are fine. I mean, we don't really know much about the characters or their place in the world, but I guess that might be the point. Jarmusch is a fan of sparseness and existentialism after all. It's sad that Isaach De Bankole will probably never be known to the mainstream, but he fares well in the indie world, and that doesn't change here. I also liked seeing Paz de la Huerta, but that might be if only for the fact that, for whatever reason, her character is always shown either totally nude or wearing nothing but a transparent raincoat. Bernal and Hurt and Murray are fine too I guess. This is the sort of thing you really need to be in the right mood and frame of mind for, but if you are, then you might dig its deliberate execution. That being said, I was mostly tuned into this film's frequency, but the ending does lack a much needed climax to end on.
Chris Weber
Super Reviewer
½
Jim Jarmusch has always been a director that's very particular in his structure, his pace and his mood. Some of his films are more successful than others and often they are not everybody's cup of tea. So, if your not a fan, avoid this one completely. A mysterious, nameless assassin (Isaach De Bankole) travels across Spain on some kind of criminal mission. Wandering throughout the picturesque city he comes across an incalculable ensemble of oddballs who join him in drinking coffee, passing him matchboxes with directions contained inside and delivering existenstial monologues and advice. This offering from Jarmusch could been seen as a self-indulgent experiment and it will most definitely not appeal to everyone. The length approaches 2hrs and the pace is very meditative indeed. It's quite possibly one of the slowest films I've ever seen. Yet, despite this, I found it also retained a sense of purpose. It always looked like it had a reason and a direction, although it was never exactly clear what they were. The first 20 mins alone consist of De Bankole just walking around. Then, doing a spot of Tai Chi. Drinking an Espresso. More Tai Chi. The occasional meeting with eccentric strangers and their philosophical meanderings. More Espresso and then at least half an hour passes before he realises he's forgotten to do his Tai Chi, before promptly doing so again. Believe me, that's all that happens throughout but I still found it captivating and real. The locations are wonderful and perfectly captured by the excellent cinematographer Christopher Doyle, who crafts a dreamlike painting of a film. If you can imagine a mixture of the George Clooney film "The American" with Richard Linklater's "Waking Life" then this would be the result. Having just recently viewed the documentary "Exit Through the Gift Shop", which explores the difference between art and pretentiousness, this would make a nice companion piece to discuss along with it. Arrogant filmaking from the experimental Jim Jarmusch that's not for all tastes but it's highly meditative and epitomises it's title in 'the limit of control'. I loved it.
Mark Walker
Super Reviewer
½
If there was ever a movie you could us the phrase "you'll either love it or hate it" to describe, The Limits of Control is that movie. I really wish I didn't read Dr. Benway's review (link below) because he nailed it beautifully and there's really not much more to say. Like its soundtrack (courtesy of Boris, Sunn O))) and Earth), the movie doesn't take the obvious straight line route to get its point across and drowns you in beautiful space, imagery and cryptic half-moments. If it wasn't for the utter lack of madness, you'd think this movie was directed by David Lynch. Like Dr. Benway, I was overcome by fascination which eventually gave way to boredom (I fell asleep, but in my defense it was like 2AM when I watched this) then appreciation. Dr. Benway's review.
Michael Gildea
Super Reviewer
The Limits of Control Quotes
| | |
| --- | --- |
| Lone Man: | "Two espressos in separate cups." |
| Lone Man: | Two espressos in separate cups. |
| | |
| --- | --- |
| Nude: | Do you like my ass? |
| | |
| --- | --- |
| Lone Man: | ''No'' |
| Lone Man: | No. |