Link
(1986)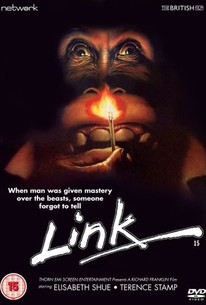 Movie Info
Richard Franklin directed this horror film that plays like Jane Goodall in Gaslight. Elisabeth Shue is Jane Chase, a graduate student in zoology who volunteers to help Dr. Steven Phillip (Terence Stamp), a professor at the university, with his animal studies. Arriving at his mansion, she is greeted by Link, a orangutan dressed in a monkey suit. Jane gets to know Link and Dr. Phillip's other chimp charges, Imp and Voodoo. One day Dr. Phillip goes to town, supposedly to sell Voodoo, but instead, Voodoo is found dead at the mansion. Link then proceeds to ignore Jane's commands and starts pushing Imp around. When Dr. Phillip's friend Bailey (Kevin Lloyd) arrives to take Voodoo away, Link becomes aggressive and chases Bailey away from the mansion. Jane later realizes Link is holding her prisoner in the mansion, not allowing her through the door and keeping the telephone away from her. Link is now out for blood, and the blood belongs to Jane.
Audience Reviews for Link
Unfortunately it's never as creepy as the poster, but it does come close. Link sees Elisabeth Shue take a job minding Stamp's cottage where 3 apes live. An elderly domineering female, a youngling hat can communicate via a computer, and an old geezer dressed as a butler. The latter, known as Link, soon becomes a bit obsessed with his new female house guest. Mysterious goings on soon give way to extended chase scenes. It gets a bit tiresome as you'd think some competent person could take out an orangutan in this situation. The ape that plays Link is incredible. His facial expressions put the human cast to shame, and it looks like he does a lot of his own physical scenes. Enjoyable, and sometimes creepy, it can also drag on in places.
Luke Baldock
Super Reviewer
½
It's sort of like a prequel to Sunset Blvd. One of the most unusual creature features I've ever seen.
Ken Stachnik
Super Reviewer
Link Quotes
There are no approved quotes yet for this movie.