L'intrepido
(2015)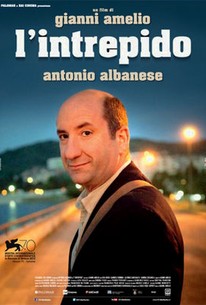 Movie Info
Set in modern day Milan, INTREPIDO: A LONELY HERO is a Chaplinesque odyssey through the world of work - every type of work, but primarily unskilled manual labour - as seen through the eyes of a kind, middle-aged man who takes on every conceivable temporary job. Beautifully wrought by master Italian director Gianni Amelio, the film is a portrait of the highs and lows of modern life. At its heart is a sympathetic man who, despite loneliness and personal family problems, especially around his gifted but troubled musician son, remains defiantly optimistic even when terrible things happen to him and the people he meets. With echoes of films such as Being There and Zelig, INTREPIDO is gently satirical and acutely observed while retaining the atmosphere of a classic fable.
Critic Reviews for L'intrepido
Audience Reviews for L'intrepido
One of a marvellous crop of Italian films issuing over the last year or so, in which the Italian instinct, nous and knowledge of the human being are woven beautifully into stories of poignancy, realism and humour. Even when life is terrible. And amidst the dreadful harshness of modern, big cities, individual people lead heroic lives. This film is about leaving your assumptions behind and being open. Reminiscent of Being There, it is also like an achingly beautiful renaissance canvas of both suffering and enlightenment. If only the powers that run this world were more like this compassionate, fearless, intelligent man.
L'intrepido Quotes
There are no approved quotes yet for this movie.