The Little American
(1917)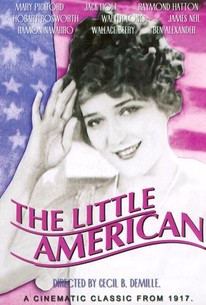 AUDIENCE SCORE
Critic Consensus: No consensus yet.
The Little American Photos
Movie Info
It would be easy to assume that combining Mary Pickford's charm with director Cecil B. DeMille's penchant for the spectacular would create an exceptional piece of work. But judging from this picture, and the one made before it -- Romance of the Redwoods -- that just wasn't the case. The bottom line was that both Pickford and DeMille wanted control over their productions and neither of them were truly capable of the kind of compromise required by collaboration. As a result, their work together suffered. America had recently entered World War I when this picture was made, and it was one of innumerable patriotic films produced around this time. It begins in 1914 with American Angela Moore (Pickford) and her two foreign suitors -- a German, Karl Von Austreim (Jack Holt) and a Frenchman, Count Jules de Destin (Raymond Hatton). Angela prefers Karl, but when war breaks out in Europe, both men go to serve their countries. Eventually Angela, too, sails for France, but her ship is sunk by a U-boat (although not named, the ship is presumed to be the Lusitania). She is saved, but when she arrives at her destination, she finds her aunt dead, and the family chateau transformed into a hospital for those wounded in battle. The Germans arrive to fight, rape and pillage. Angela and Karl are reunited when, unaware of her identity, he tries to attack her. She forgives him this transgression, but when the Germans discover her sending messages to the French, the commander (Herbert Bosworth) orders her shot. At this, Karl denounces his country and he is ordered to be shot, too. The pair are saved by a French shell which blows up the Germans at an opportune moment, and after an all-night battle, they are found by the Allies, sleeping at the foot of a cross. Although Karl is arrested, Angela is able to have him freed and they leave for the U.S. together. This mediocre film was overshadowed by the far superior Poor Little Rich Girl, which was released earlier in the year.
Critic Reviews for The Little American
All Critics (3) | Top Critics (1) | Fresh (2) | Rotten (1)
You might go a long way and see a great deal of famous acting without meeting [Pickford's] expression of an emotion, so true, so poignant and so beautiful.
Mary Pickford is always Mary Pick- ford, and her work is up to her standard but, in this picture she must divide attention with the gripping story.
Audience Reviews
There are no featured reviews for The Little American at this time.
The Little American Quotes
There are no approved quotes yet for this movie.