Little Big League
(1994)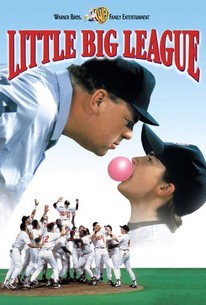 Movie Info
A 12-year old boy inherits the Minnesota Twins in this baseball comedy that is aimed toward younger viewers. Young Billy, a normal twelve-year old, is nuts about baseball and knows almost everything there is to know about the game. He should, his grandfather owns the perennial losers, the Minnesota Twins. When grandpa dies, he leaves the Twins in Billy's hands. Naturally the players are skeptical, especially after Billy designates himself as team manager. But with a combination of guile, knowledge and determination, Billy earns their grudging respect and the team begins a winning streak. Initially, Billy reminds the team that baseball is supposed to be fun, but he soon forgets that as he becomes increasingly involved in the adult world of competition, management and team politics. His three friends are angered that he no-longer has time for them. Billy gets mad when the first baseman starts going out with his mom. Eventually the burned out Billy must again learn how to be a kid. ~ Sandra Brennan, Rovi
Critic Reviews for Little Big League
Audience Reviews for Little Big League
This is good, hilarious and clever family baseball movie since The Sandlot. There were plenty of funny scenes that adults, rather than children, could relate to. It was well done and well acted.
Dean McKenna
Super Reviewer
½
Man I just erased my review for this movie, it was a good one too. Talking about how this movie focuses on the technical side of baseball rather than making a spoof cheesy film like Rookie of the Year, which is still enjoyable. Hollywood loved baseball movies in the early to mid nineties. This movie was the least popular because it relied on the analysis of the game, and most people nowadays don't like baseball. I liked this movie more because it took a smart serious take on sports movies.
Lenny Muggsy
Super Reviewer
½
This movie had a lot of funny parts in it, and made for a classic-baseball family film. The actors were fairly well, and you cant beat Griffey being in it. But really it carried out way too long, and could of been written better. It's still worth watching for a mid 90s movie though.
Bobby Hobbs
Super Reviewer
Little Big League Quotes
There are no approved quotes yet for this movie.