Little Children
(2006)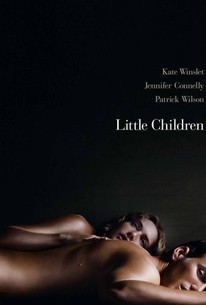 TOMATOMETER
AUDIENCE SCORE
Critic Consensus: Little Children takes a penetrating look at suburbia and its flawed individuals with an unflinching yet humane eye.
Movie Info
In a suburban town full of perfect parents devoted to rearing their children for Harvard futures, a stay-at-home mom has an affair with an ex-jock, stay-at-home dad who rebels against his wife's wishes that he become a big-bucks lawyer.
News & Interviews for Little Children
Critic Reviews for Little Children
Audience Reviews for Little Children
A good film, with some good acting talent. A tale of 2 people that meet and start ana affiar to escape their normal everyday lives. Although the sub plot of a child abuser being released back into their community didn't really fit in with the rest of the film.
Maybe my lack of understanding is what provides a low rating compared to its apparent popularity, but there is simply nothing to like about this pointless and uneventful movie about being disenchanted and disconnected with the world and people around you.
Film Crazy
Super Reviewer
½
Author Tom Perrotta joined up with director/sometimes actor Todd Field to make an adaptation of his novel about the woes of living in suburbia, especially where the effects of adultery and having a registered sex offender living nearby are concerned. Incidentally, this is a lot like Revolutionary Road (and both star Kate Winslet), but this one is far less depressing, and has more obvious notes of sardonic satire. The film starts off really cooking with some sharp and rather witty satire, but then eventually devolves into overwrought melodrama that runs overlong and doesn't really tell me me anything I didn't really already know. Plus, the movie makes it seem like all suburbanites suffer like these characters do, and that's just not the case at all. I did enjoy the film a fair amount though, that much is certain. I'm mixed about the use of narration, especially since it mostly tells instead of showing, which gets to me. Also, I think the subplot about the sex offender could have been better incorporated into the story, especially since it is some of the best material here, with Jackie Earle Haley giving a brilliant performance in a really tough and unenviable role. The stuff concerning adultery and midlife crisis is somewhat on the nose and reeks of rehahing of better movies, but it is still decently well played, and no one here really gives a bad performance, although Connelly could have been used more, and it did sorta seem like the actors were fishing for Oscars at times. Still, the film looks great, the music's not bad, and I wasn't really as bored as I could have been.
Chris Weber
Super Reviewer
Little Children Quotes
| | |
| --- | --- |
| Mary Ann: | Oh that's nice. So now cheating on your husband makes you a feminist? |
| Sarah Pierce: | No, no, no. It's not the cheating. It's the hunger - the hunger for an alternative and the refusal to accept a life of unhappiness. |
| | |
| --- | --- |
| Sarah Pierce: | My professors would kill me for even thinking this, but, in her own strange way Emma Bovary is a feminist. |
| Mary Ann: | Oh, that's nice. So now, cheating on your husband makes you a feminist. |
| Sarah Pierce: | No, no, no. It's not the cheating. It's the hunger. The hunger for an alternative and the refusal to accept a life of unhappiness. |
| | |
| --- | --- |
| May McGorvey: | There. You look handsome. She won´t be dissapointed |
| May McGorvey: | There. You look handsome. She won't be dissapointed |
| Ronnie J. McGorvey: | Wait´ll she hears about my criminal record |
| Ronnie J. McGorvey: | Wait'll she hears about my criminal record |
| May McGorvey: | I don´t think you need to get into that just yet. Why dont´t you stick to small talk? |