Little Darlings
(1980)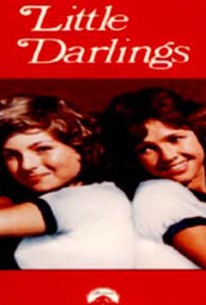 Movie Info
Two 15-year-old girls from different backgrounds meet at summer camp in this coming-of-age comedy. Ferris (Tatum O'Neal) is a lonely rich girl who meets Angel (Kristy McNichol), a tough cookie from the poor side of town. The two take an instant dislike for each other and make a bet on who can lose their virginity first. O'Neal and McNichol manage to successfully capture the apprehension of adolescent fears about sex on the verge of womanhood. Watch for Matt Dillon in his third feature-film appearance as Ferris' love interest. Armand Assante is wasted in his role as Gary.
Critic Reviews for Little Darlings
Audience Reviews for Little Darlings
½
A very hard to find (as of 2012) film about two teenage girls trying to win a bet/dare by losing their virginity first. This movie is notable for the pairing of two of the biggest young female actors in hollywood at the time, Tatum O'Neal and Kristy McNichol. Although O'Neal won an oscar at age 10 for her work in Paper Moon, she appears to have left most of her acting ability behind by 1980. She isn't terrible, but when compared to the work McNichol does in this movie, there is no doubt who has the natural talent. The first 2/3 of this movie are barely average summer camp kid comedy stuff. What saves this movie and, in my opinion, redeems it is the work McNichol does in the final 30 minutes. Switching from summer camp silliness to (perhaps awkwardly) serious drama about the fear, anxiety, responsibility and intimacy of sex, this part of the movie rings 100% true. McNichol is emotionally naked, her tough-girl persona stripped away as she learns that sexual intimacy is not merely a physical act. It requires an emotional investment, and her scenes with a young Matt Dillon are powerful and genuine. Overall, Little Darlings feels like two movies. One, an average or slightly below average summer camp comedy. The second, an earnest examination of how truly terrifying sex for the first time can be. It's an odd mix, but the film is worth while if you can find it and McNichol is, at times, amazing.
Mark Harper
Super Reviewer
Tatum O'Neal and Kristy McNichol are summer campers who become rivals at first sight. Kristy plays Angel Bright, the camp's scholarship winner who is a poor, streetwise girl from the wrong side of the tracks. Tatum portrays Ferris Whitney, who is wealthy and stuck-up. They lock horns instantly so when one of the other campers challenges them to a contest, it's anything goes! Whoever loses her virginity first, wins!!! Although not as sleazy as it might sound, "Little Darlings" seems like a Disney romp about teenage sex with hormones flying everywhere. Matt Dillon stars as Randy, the camper from the boys' camp across the lake whom Angel picks to deflower her. Matt Dillon is just a hunk and I loved him in those tight jeans and shirts.OOH LALA! Plus Armand Assante is hottest camp counselor as well.
Little Darlings Quotes
There are no approved quotes yet for this movie.