Little Murders
(1971)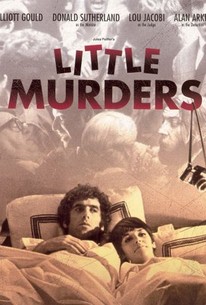 Movie Info
Hilarity alternates with appalling disasters and violence in this disturbing comedy scripted by cartoonist Jules Feiffer, based on his stage play of the same name. This film represents well-known actor Alan Arkin's first time out as a movie director. The story concerns news photographer Alfred Chamberlain (Elliott Gould) who is unable to feel anything. He is ambivalent about whether this is a great advantage or something to blame his mother for. This begins to change when Patsy Newquist (Marcia Rodd) comes into his life. Alfred tries to get her to follow his philosophy of indifference and apathy while she and her family of oddballs, including her father (Vincent Gardenia), advocate joining the world's insanity. Highlights include vignettes of Donald Sutherland as a slick minister and of Lou Jacobi as a judge. Arkin shows up in front of the camera briefly as a police detective.
Critic Reviews for Little Murders
Audience Reviews for Little Murders
This is a brilliant black comedy based on a great off Broadway play. The story is fantastic and comments on city life and the postmodern world in an outrageous way. I love this movie, and I recommend it.
½
When my friends recommended this movie to me, I expected something a little different than what I got. Not that I was disappointed at all, this movie is probably one of the more original films I have seen in a long time. I loved the monologues and enjoyed the performances (Elliot Gould is amazing and it's a damn shame that some only know him as Monica's dad from Friends). The climax is a little out there, but I didn't mind it because I thought it fit with the rest of the film. The only problem I had was the performance of Alan Arkin who I thought was just annoying. Overall, very enjoyable and nice to see something out of the ordinary.
½
probably a better play; movie sort of hammers in front of you but scenes are great on their own; Donald Sutherland's monologue is incredible
Adam Mahler
Super Reviewer
Little Murders Quotes
There are no approved quotes yet for this movie.