Little Nicholas (Le petit Nicolas)
(2009)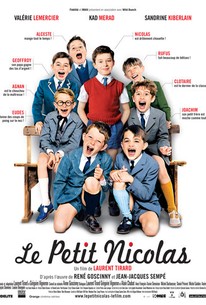 Little Nicholas (Le petit Nicolas) Photos
Movie Info
This dark, slightly absurdist comedy from France topped the French box office in 2009, becoming a local phenomenon. It is narrated by Nicolas (Maxime Godart), an eight-year-old boy supremely happy with his loving, doting parents and a colorful group of friends. It seems that life couldn't possibly improve - until Nicolas eavesdrops on his folks and surmises that his mother is pregnant. Horrified, he envisions a scenario where a new baby brother arrives and crowds him out of the house, leaving his parents with no time to care for him. Nicolas and his friends then cook up a series of wild schemes to dispose of the baby. ~ Nathan Southern, Rovi
Critic Reviews for Little Nicholas (Le petit Nicolas)
Audience Reviews for Little Nicholas (Le petit Nicolas)
½
Highly recommend Nowadays kids movie follow the same pattern, some how involving a secret pop star, or "The Rock", I had to search all the way, and find a french movie that surprised me, it showed me that this generation still has hope, but this time in french This might be one of the best french films ever, the simple story, one eyed comedy keeps the story fluctuating. Little stories interconnect with each other, the story of a couple who hope to have a promotion by inviting the boss for dinner, and the story of their kid, Nicolas and his imagination, together with his gang, in total making this an amazing film highly developed characters, an amazing script and cinematography, makes this one of the best french films, and children busters out, so don't keep taking your kid to watch "the Rock" being a tooth fairy, or take him to see some Disney Musical, make him a cult kid and take him to see, french films. Clotaire: A date?
Pedro Holanda
Super Reviewer
½
This was an adorable movie! So, some things were a teensy bit over the top, but the premise was very cute and led to some funny moments. In fact, the laugh out loud factor was nearly embarrassing on the plane flight. :S
Angela Alcorn
Super Reviewer
½
Fun to watch! A family film that does not insult the intelligence of adults. The kids are all brilliant and they play their parts perfectly.
Nicolas Korovessis
Super Reviewer
Little Nicholas (Le petit Nicolas) Quotes
There are no approved quotes yet for this movie.