Little Nicky
(2000)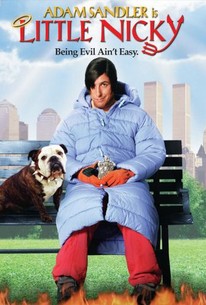 TOMATOMETER
AUDIENCE SCORE
Critic Consensus: Despite the presence of a large, talented cast, the jokes in Little Nicky are dumb, tasteless, and not that funny, and Adam Sandler's character is grating to watch.
Movie Info
The youngest child of the family often has the most problems -- so why should things be different for the Prince of Darkness and his offspring? Satan (Harvey Keitel) is considering retirement, and is pondering which of his sons should take over the family business -- ambitious Adrian (Rhys Ifans), strapping Cassius (Tommy "Tiny" Lister Jr.), or Nicky (Adam Sandler), an accident-prone demon who prefers to stay in his room playing his favorite heavy metal tunes. When Satan decides to stay on for another 10,000 years, Adrian is outraged, and leaves Hell to go to New York, where he and Cassius attempt to round up enough souls to vote Satan out of power. Satan, understandably upset, sends Nicky to bring Adrian and Cassius back home, but Nicky finds life on Earth is more complicated than he expected. Things don't get any easier when he develops a crush on Valerie (Patricia Arquette), a good-hearted mortal woman. Little Nicky also features Michael McKean as a city official trying to put Nicky behind bars, Kevin Nealon as Hell's gatekeeper, Rodney Dangerfield as Satan's father, Robert Smigel as the voice of Beefy -- a talking dog who is Nicky's guide on earth, Allen Covert as Todd -- Nicky's new roommate, and Peter Dante and Jonathan Loughran as a pair of metalheads who dig Satan. Jon Lovitz and Reese Witherspoon play cameo roles, and Regis Philbin and Ozzy Osbourne appear as themselves.
Critic Reviews for Little Nicky
Audience Reviews for Little Nicky
Little Nicky is yet another lame Adam Sandler comedy. Though there were some aspects of the film I enjoyed, as a whole, the film failed as a comedy. The comedic elements are very poor, as well as the acting. The cast are dull, boring and annoying. The high point of the film is Ozzy Osbourne's cameo. Even with, it doesn't save the film from being a total misfire. Adam Sandler displays a tired out comedy routine with Little Nicky, thus the film suffers from poor comedy, which gets tiring very quickly. I laughed a few times; unfortunately this is not a film that you can laugh over and over. Little has stood the test of time, and the comedic elements are tired, sloppy and plainly stupid. The comedy came out when I was still in High school, so I loved it back then, as an adult in my mid twenties, I view it now as an awful comedy with nothing really to enjoy, aside from the metal music used and Ozzy's cameo. Other than those two elements, the film is bad, forgettable, with a poor cast. This could have been a funny film if it wasn't for Sandler and the usual cast that he stars with. I found them to be quite dry, and they really didn't deliver any laughs. Little Nicky is a boring, forgettable comedy that hasn't stood the test of time. I hated the film, and thought it was a wasted opportunity to do something great. The film really disappointed me, and is one of Sandler's worst.
This was the first movie I saw on a date in middle school, and even then I didn't think it was funny. Plain stupid.
Eric Alvarez
Super Reviewer
Another Adam Sandler classic!
Bethany Murphy
Super Reviewer
Little Nicky Quotes
| | |
| --- | --- |
| Nicky: | Popeye's chicken is fuckin' awesome! |
| | |
| --- | --- |
| Lucifer: | The last time I saw a pair of jugs that big, two hillbillies were blowing on them. |
| | |
| --- | --- |
| Jimmy the Demon: | You were gone 10 seconds, what happened? |
| Nicky: | I got hit by a bright light attached to a lot of metal. |
| Satan: | That's a train, son, don't stand in front of them. |
| | |
| --- | --- |
| Lucifer: | Even in Hell I get no respect. |