The Little Vampire
(2000)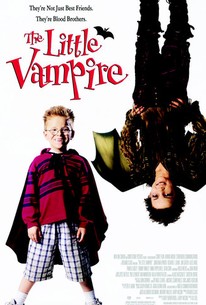 TOMATOMETER
AUDIENCE SCORE
Critic Consensus: The Little Vampire can't seem to find the right pitch, with its muddled, jumpy script and badly executed mix of cuteness and fright.
The Little Vampire Photos
Movie Info
It is not easy being a 9 year old in a new country. Tony has just moved with his parents, Dottie and Bob Thompson, from a big bustling city in America to a small village in a remote corner of Scotland. Every night, in his new home, Tony has nightmares about vampires, and he has no idea why. He soon becomes so absorbed by them that he starts studying every book he can find on the subject. His classmates tease him about his vampire obsession, especially the cruel local kids, Nigel and Flint, nephews of local squire, and Bob's employer, Lord McAshton. The teacher at his new school is so shocked he tells Tony's Mom about how worried he is; not a good start for the new kid in town. One evening, while in his room, practicing basic vampire moves, Tony gets a visit from a large bat, which transforms before his eyes into a 9 year old vampire boy, Rudolph, who happens to be extremely hungry, and convinced that Tony is one of his kind. Realizing that Tony is not a vampire, Rudolph tries to fly away again, but having no strength he just plummets straight to the ground outside Tony's window. Rookery the vampire hunter in his vampire hunting truck is in hot pursuit, and Tony, intrigued by the real life vampire he has met, protects Rudolph and, at his request, leads him to the local farm, where Rudolph drinks the blood of a cow. What later ensues is an adventurous caper during which Tony helps Rudolph find the mysterious missing half of the amulet that can help Rudolph and his family finally realize their dream - to become human again!
Critic Reviews for The Little Vampire
Audience Reviews for The Little Vampire
½
It was really funny, and charming, pretty scary for kids. it was a light, enjoyable romp..but didnt offer much more tha that for any others.
Joseph Eastmond
Super Reviewer
½
It was one of my favourite movies when I was about 7 years old! Now it's still pretty good, but definately worth watching!
½
The costumes are gorgeous, and in a way it is pleasingly different to see a film where humans are more likely to be harmed by the vampire hunter than the vampires themselves. However, even for a children's film the dialogue is pretty awful, and the acting is just about bearable (the child actors tend to stretch this the most, but they are children after all, so I suppose we should forgive them). Overall, it's a children's film which an adult will likely be able to tolerate watching with them. Whether or not the adult will actually like it depends on the adult.
The Little Vampire Quotes
There are no approved quotes yet for this movie.