Little Voice
(1998)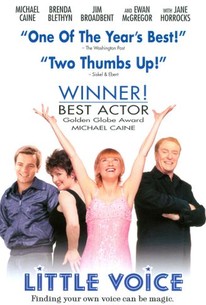 TOMATOMETER
AUDIENCE SCORE
Critic Consensus: Little Voice brings its award-winning source material to the screen in style, elevated by a commanding lead performance from Jane Horrocks.
Movie Info
Based on the Olivier Award-winning London play, LITTLE VOICE follows the story of a young girl who can only express herself through famous vintage songs. She doesn't speak, but she can sing in the timeless voices of performers like Judy Garland, Marilyn Monroe and Billie Holliday.
Critic Reviews for Little Voice
Audience Reviews for Little Voice
½
Small as the subject, Little Voice is about sensational talents of a timid woman without regard for herself or her life. Maybe that too is insensitive, because the character of Little Voice is always being imposed upon by her mother, played by the hard to understand but phenomenally talented Brenda Blethyn. The film is anything but understated, forcing mixed metaphors down our throat, all to the tune of a Judy Garland song whaling in the background. It's more than about hidden talent or the forces of the world trying to take advantage of it. It's about love, showing it any way you can, even if it is for the dead, and even if that may be by singing your heart out in their memory. Little Voice sings for her father, and isn't so much encouraged as forced to sing by her mother and her mother's skeevy acquaintance Ray Say, a manager for a shabby nightclub downtown called Mr. Boo's. Besides being a grand idea trapped in the small world of an English village, it's also about the beautiful qualties imbibed within many people who walk past us every day. Little Voice is small, soft spoken, and uninterested in the real world, or trying to get past her saddening situation of isolation and naivete. The antics of her mother are quite hard to watch as she bellows and moans her way into another bout of loneliness. Michael Caine is sensational as always as Ray Say, a contentious man who seduces Little Voice into a one night gig and then takes advantage by selling her outright. Jane Horrocks, who would go on to be a great character actress featured in director Mike Leigh's productions, is a force to be reckoned with, as she straddles the line between temptress and mousy invalid. She blows us away with her stunning singing and spot on impersonations The romantic interest, played in a small role by Ewan McGregor, wasn't a strong influence on the main character, but he was a cute addage, a part of the plot that may not have been needed, but showed insight into what Little Voice really wanted. Certainly watch because of the sensational singing, but stay for the family dysfunction.
Spencer S.
Super Reviewer
Directed (co-wrote) by Mark Herman, Miramax Films, 1998. Starring Brenda Blethyn, Michael Caine, Ewan McGregor and Jane Horrocks. Genre: Comedy, Drama, Romance Question: What keeps you weak, afraid to try, or forces you to stay within your own safe bubble? Fear! I know everyone is afraid of something. Disappointment, fear of more sadness or the failure that will come again if you decide to go outside your comfort zone, so you stand still because fear has a choke-hold on you. Little Voice shows a young woman whose life's only happiness is listening to the records her father owned because her world ended when he died and so did her ability see beyond her own pain. Fear has paralyzed her. I remember seeing this movie when it first came out about 13 years ago or so but really couldn't remember much of it. Yes, that is so unlike me. However, if you follow me and my reviews your jaw is about to drop at my next sentence. I only chose this movie on Netflix instant play because Brenda Blethyn and Michael Caine were listed as the top actors in Little Voice, but when I started it Ewan McGregor's name came up in the opening credits. Instantly I smiled but thought, "How could I forget he was in this movie?" I pushed that thought aside quickly because I was now in my own little bubble - watching a movie - and surprisingly content for the first time in a while. I was able to relax and enjoy this movie all over again. Little Voice or LV is a shy, timid girl who hangs out in her attic bedroom room listening to records - not CDs - records of the 1950's and 1960's with artists like Judy Garland, Shirley Bassie and Marilyn Monroe. She shuts out the rest of the world when the music starts but you soon realize she is mainly shutting out her abusive mother played by Brenda Blethyn. You witness this domineering women care nothing about her daughter and for the life of it you can't figure out why. I have my theories and it has to do with disappointment - a powerful emotion that can turn a person cold, selfish and sometimes quick to become angry at those they are supposed to love. During a moment of her mother trying again to find happiness in the only way she knows how, a duel of sorts ensues and the power goes out. LV then uses the only other way to find comfort without the records is to sing - and can she sing! This is the point in the movie you discover that her name is all wrong. I would love to tell you more but will let you discover the talent this woman has that was buried deep inside that had to come out. Now the best thing about this movie has to be LV and when she sings but you get the feeling something isn't quite right about it all. LV tries desperately to keep her singing to herself in order to cope. However, Michael Caine stars in this film as a low-level talent scout who banks everything on having LV making him a million once he hears her voice. He cunningly convinces LV to perform but there is a consequence to his manipulation. However, that is all I will say about that. Should I say anything about my favorite actor? Of course! It makes me happy. He is a quiet fellow in this film who enjoys homing pigeons as a hobby. He meets LV and discovers another shy person and for some inexplicable reason they start a friendship. He cares for her like no one else does, watches over her, and is there when she needs him the most. It was sweet to witness a friendship like that. Little Voice is a movie about finding the ability to stand on your own two feet and overcoming a debilitating fear. Some of the scenes were a bit over the top especially with the abusive mother. However, sometimes showing people whose fears have swallowed them up, which in turn causes their reactions towards others to be less than kind can show how the abused person can become paralyzed and seeks refuge alone. It ain't pretty but it made the point well. Fortunately, there was some great music to balance out some of the ugliness. This is based on the play "The Rise and Fall of Little Voice" which was written for Jane Horrocks and her talent. My favorite part: The times when LV sings. Now close your mouth - yes, he was my second favorite but I am biased. My least favorite: I am not going to say on this one. Rating: R Length: 97 minutes Review: 6 out of 10
Tired of Previews
Super Reviewer
½
The dazzling talents of Jane Horrocks, the wonderful performance from Brenda Blethyn and the sleezy, yet comical role for Michael Caine, make for an entertaining, original idea of a film. Talent versus performance for this shrinking violet, who's ambition is every body eles bar her own.
Lady D'arbanville
Super Reviewer
Little Voice Quotes
There are no approved quotes yet for this movie.