Little White Lies
(2012)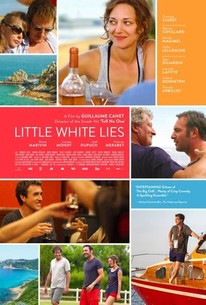 TOMATOMETER
AUDIENCE SCORE
Critic Consensus: Little White Lies luxuriates in the company of its impressive cast and small-scale dilemmas to its detriment, yielding a comedy of initial charm that meanders into boredom.
Movie Info
French box-office sensation Little White Lies is a sparkling comedic drama from Guillaume Canet, the writer-director of the worldwide smash hit Tell No One. Bringing together the top names from France's current generation of actors, including Jean Dujardin, Marion Cotillard and Francois Cluzet, Canet weaves a joyous and heartfelt film out of the dilemmas of eight thirty- and forty-something close friends. With its nostalgic soundtrack of classic hit songs from Creedence Clearwater Revival, Janis Joplin, Nina Simone and others, Little White Lies is a contemporary spin on The Big Chill, a generational statement on youthful frivolity giving way to middle-aged pleasures and sorrows, with a finely observant eye on modern day relationships. -- (C) Official Site
News & Interviews for Little White Lies
Critic Reviews for Little White Lies
Audience Reviews for Little White Lies
½
With a first-rate cast and a great soundtrack, this is a warm and funny movie that already begins with an impressive long take, and although it has a maudlin conclusion that almost ruins it, it is centered on a group of characters who are flawed and entirely human - like they should be.
Carlos Magalhães
Super Reviewer
½
While one of their members is ailing, a group of friends proceeds with their yearly vacation. This film is a modern French version of The Big Chill. One can even draw one-to-one comparisons between the characters: Francois Cluzet's character = Kevin Kline's character, Jean Dujardin's character = Kevin Costner's character, Marion Cotillard's character = a combination of Meg Tilly's and Mary Kay Place's characters. It even has many of the same songs. It's okay to imitate, especially when a film is imitating one of the best, and The Big Chill is a superior film. But there are two important aspects of comparison that I consider relevant to evaluating Little White Lies. First, The Big Chill's characters could be reduced to types, but by the end of the film, the individual qualities of these character cause them to rise above the cliche type: the philosophical justifications behind Jeff Goldblum's character make him more interesting than the horny guy type. The same is true with Little White Lies; the scene outside Lea's apartment in Paris makes Gilles Lillouche's character more interesting than his horny guy type. This is where the French version succeeds, but The Big Chill, in addition to being an interesting film in itself, it's also a cultural critique, capturing the ennui and disappointment and failures of the Baby Boomer generation. It may be that Little White Lies makes a similar cultural critique for French audiences, but it doesn't translate, and including the sixties nostalgia songs that graced The Big Chill only serves to muddy the film's message. Overall, this is a strong film with excellent performances and esprit de corps, but the film's larger context makes it less than its idols.
Jim Hunter
Super Reviewer
Some of the best character development I've ever seen. Also, this is the first movie that ever made me cry in theatres. I pretty much loved it and decided to overcome its flaws, which actually allow the viewer to omit them only if they have a heart. Cause this movie is going straight for yours.
Emile Tremblay
Super Reviewer