The Littlest Rebel
(1935)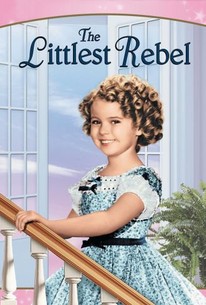 Movie Info
This Shirley Temple offering casts the moppet as the daughter of a Confederate officer who visits with President Lincoln in an effort to get her father released from a Union prison.
Critic Reviews for The Littlest Rebel
Audience Reviews for The Littlest Rebel
Shirley was 7 when she made this Civil War set film as the daughter of a Confederate soldier. This was the last of four films she made that were released in 1935 and the final of three films that co-starred John Boles. It is good wholesome entertainment with the plucky girl hero. HOWEVER! Except, since the movie is from the point of view of the south with villainous Union officers ruining the way of life of the Southerners, the issue of racism and slavery are brushed under the rug. Bill Robinson sings and dances well with Shirley as nearly a substitute father figure. His character and other minor slave characters are loyal to their rich masters. The slaves are all arch stereotypes with Shirley's young Virginian blithely considering them part of her family and not property. Shirley even appears in blackface to dupe the Union army sacking the valuables from her plantation home! It was a different time, but maybe still very much in some people's memories considering Shirley Temple's popularity, when a good clean family film meant white-washing the real historical issues with a tale, ultimately, of the Great Emancipator pardoning a white Confederate officer because Shirley asks him pretty please. Even today there is a deep racism in this country as if the economy and ethics of slavery is not truly understood as the evil that it was. Or if slavery is understood for an evil thing, some still don't know how to treat large minority populations as fully human, deserving of all the same rights.
Byron Brubaker
Super Reviewer
I thought the Little Cololnel was much better - I don't think there was a need for both. And the Abraham Lincoln scene was a little over the top.
Sarah Prisbylla
Super Reviewer
The Littlest Rebel Quotes
There are no approved quotes yet for this movie.