Live Free or Die Hard
(2007)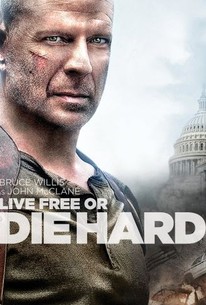 TOMATOMETER
AUDIENCE SCORE
Critic Consensus: Live Free or Die Hard may be preposterous, but it's an efficient, action-packed summer popcorn flick with thrilling stunts and a commanding performance by Bruce Willis. Fans of the previous Die Hard films will not be disappointed.
Live Free or Die Hard Photos
Movie Info
On the Fourth of July weekend, an attack on the vulnerable United States infrastructure begins to shut down the entire nation. The mysterious figure behind the scheme has figured out every modern angle... but he never figured on McClane--the old-school "analog" fly in the "digital" ointment. It's the beginning of the holiday, but New York City Detective McClane isn't celebrating. He's had yet another argument with his college-age daughter Lucy, and received a crushingly routine assignment to bring in a young hacker, Matt Farrell, for questioning by the FBI. But for McClane, the ordinary has a habit of exploding into the extraordinary--abruptly hurtling him into the wrong place at the wrong time. With Farrell's help, McClane slowly begins to understand the increasing chaos surrounding him. An attack is underway on the vulnerable United States infrastructure, shutting down the entire nation. The mysterious figure behind the scheme, Thomas Gabriel, stays several moves ahead of McClane as he implements his incredible plans, known to uber-geeks like Farrell as a "fire sale" (as in, everything must go!)
Critic Reviews for Live Free or Die Hard
Audience Reviews for Live Free or Die Hard
A great, stand out action film that delivers all the good stuff from the other Die Hard films....and even a few ideas from some other top action films.
We get a cool relevant story for the present day about hackers getting in to control just about everything in the country, lots of great action scenes not overly reliant on CGI, great fights and some humour as well of course. John McClane is definitely one hard to kill guy, kicking bad guy ass just as well as ever. This is all out action you can't fail to like!!
½
Bruce Willis plays John McClain again in this solid actioner that fully embraces teenage mentality movie-wise: less dialogue, more action. More fistfights. More shootouts. More explosions. It's actually a comfort watching Willis jump from a exploding fighter jet w/o a parachute and totally walk away from it. The film is loaded with vehicles of all types. Ambulances, fire trucks, tractor trailers, classic cars, helicopters ... it's a gearhead's wet dream. Leave yer fancy libtard edjumacation at the door, grow a pair, and hitch yerself in. Big fun, old school.
Kevin M. Williams
Super Reviewer
½
[img]http://images.rottentomatoes.com/images/user/icons/icon14.gif[/img]
Directors Cat
Super Reviewer
Live Free or Die Hard Quotes
| | |
| --- | --- |
| Thomas Gabriel: | On your tombstone it should read 'At the wrong place at the wrong time,' |
| Thomas Gabriel: | On your tombstone it should read 'At the wrong place at the wrong time'. |
| John McClane: | How about ' Yippie ki yay, motherfucker!' |
| John McClane: | How about ' Yippie ki yay, motherfucker!'. |
| | |
| --- | --- |
| Thomas Gabriel: | (On the phone) Mai, what the hell's going on? |
| Thomas Gabriel: | [on the phone] Mai, what the hell's going on? |
| John McClane: | Mai? Oh yeah, little Asian chick, likes to kick people? I don't think she's gonna be talking to anyone for a long time. The last time I saw her she was at the bottom of an elevator shaft with a big SUV rammed up her ass. |
| | |
| --- | --- |
| John McClane: | "Nice poster." |
| John McClane: | Nice poster. |