Live from Baghdad
(2002)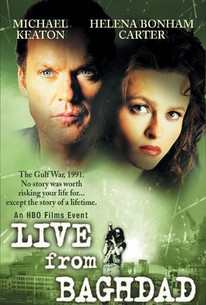 Movie Info
As America geared itself for another possible armed conflict in Iraq, the HBO cable service offered a dramatization of events surrounding the 1991 Persian Gulf War. Originally telecast on December 8, 2002, Live From Baghdad recounted the efforts by the CNN network to be first on the scene when hostilities broke out in the Gulf in late 1990. Inaugurating round-the-clock coverage of the warfare with the invasion of Kuwait, dauntless CNN producers Robert Wiener (Michael Keaton) and Ingrid Formanek (Helena Bonham Carter), aided and abetted by on-the-scene reporters Bernard Shaw (Robert Wisdom), Peter Arnett (Bruce McGill), and John Holliman (John Carroll Lynch), among many others, represented the only American news service on the scene during the first night of bombing on January 16, 1991. Not only does Live From Baghdad celebrate the heroism (and meticulous fairness) of the CNN crew, but it also vividly demonstrates how a tiny but tenacious basic cable channel managed to out-scoop the Big Three networks, thereby becoming one of the most powerful and influential journalistic forces in the world.
News & Interviews for Live from Baghdad
Critic Reviews for Live from Baghdad
Audience Reviews for Live from Baghdad
This was an interesting look behind the scenes of CNN's efforts to bring the 1991 bombing of Baghdad into the homes of TV viewers. It brings to light the heroic sacrifices made by journalists, camera crews and producers to keep us informed while working in hostile dangerous areas. A good effort from Keaton, & Carter, help make this a really decent film..
Cynthia S.
Super Reviewer
½
[font=Century Gothic] "Live from Baghdad" takes place after Iraq's invasion of Kuwait in 1990, when executive producer Robert Wiener(Michael Keaton) volunteers to be sent by CNN into Baghdad, having nothing else to cover in Berlin since the wall came down. His superiors approve, even though Wiener has a bit of a reputation for taking chances. So he suggests Ingrid Formanek(Helena Bonham Carter) to partner with him and to keep him in line, disavowing any rumors that their relationship goes deeper than work. But first they have to buy all the booze and cigars they can find in Rome...[/font] [font=Century Gothic][/font] [font=Century Gothic]"Live from Baghdad" is an enjoyable and intelligent dramatization of CNN's coverage of the First Gulf War, said coverage making the fledgling network's reputation.(At the time they were the only 24 hour news channel around.) But before that happened, their crew in Baghdad has to find real news stories(the prize being an interview with Saddam Hussein) while not offending their hosts so much that they are kicked out of the country on the first day while in the long run staying alive. This is especially tricky when both sides are trying to exploit them for propaganda purposes. To do all of that, Wiener cultivates a relationship with the ministry of information(See, this is where the cigars come in handy.) to keep the lines of communication open to possibly avoid a war.(Well, that didn't work out too well, did it?)[/font] [font=Century Gothic][/font] [font=Century Gothic]You don't have to be crazy to be a journalist covering a war but it helps. And while Michael Keaton and Helena Bonham Carter definitely play to the psycho part of their respective ranges, the viewer can also detect the concern on Keaton's face at each decision his character has to make, none of them easy. [/font]