The Lives of a Bengal Lancer
(1935)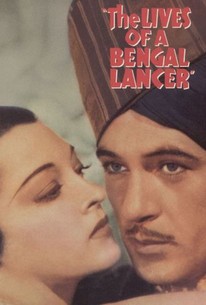 The Lives of a Bengal Lancer Photos
Movie Info
Gary Cooper stars in this rousing adventure saga of three British officers of the 41st Regiment of Bengal Lancers of India. The story begins as Lt. McGregor (Gary Cooper) accepts two new officers to his company -- the brash Lt. Fortesque (Franchot Tone) and Lt. Stone (Richard Cromwell), the son of the garrison's commander, Col. Stone (Guy Standing). In an effort not to show favoritism, Stone's father barely acknowledges his son during a parade of the new officers. Lt. Stone resents this treatment by his father and becomes embittered at both his dad and the British army. McGregor is ordered to search for a British spy, Lt. Barrett (Colin Tapley), who has infiltrated the army of crazed chieftain Mohammed Khan (Douglas Dumbrille). The three officers find Barrett, who tells them Khan is planning an uprising against the British, utilizing the mountain tribes for a massive assault. Lt. Stone finds himself captured by the rebels and is taken to Mohammed Khan's mountain fortress to be tortured. Stone's father refuses to send in the lancers to save his son, reasoning that his son was captured to lure the British forces to their doom. Disguising themselves as Indian peddlers, McGregror and Fortesque go off to rescue Stone. But they are soon discovered and taken to Mohammed Khan's lair to be tortured, with Khan telling McGregor, "We have ways of making men talk." Mohammed wants the soldiers to tell him where a shipment of ammunition will be delivered. McGregor and Fortesque withstand the torture without divulging the location, but Lt. Stone cracks and tells Khan what he wants to know. The three officers see the ammunition delivered to Khan's fortress, but then they hear Col. Stone and 300 lancers have arrived outside of Khan's gates.
Critic Reviews for The Lives of a Bengal Lancer
Audience Reviews for The Lives of a Bengal Lancer
Another tale of the heroic white guy in the midst of terrifying dark people. Not terribly great without the wooden Gary Cooper, pretty terrible with the block of wood.
John Ballantine
Super Reviewer
The Lives of a Bengal Lancer Quotes
There are no approved quotes yet for this movie.