Living Out Loud
(1998)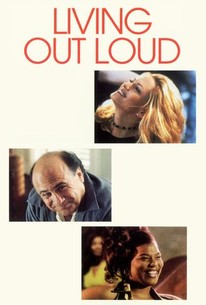 Movie Info
Noted screenwriter Richard LaGravenese made his directorial debut with this dramatic comedy about two unlikely people who find each other while looking for love. Judith Nelson (Holly Hunter) is suddenly single after discovering her husband of fifteen years, a successful doctor (Martin Donovan), has been having an affair with a younger woman. Judith stews, plans, plots and fantasizes, but she can't decide what to do with her life until she goes out to a night club to see singer Liz Bailey (Queen Latifah), who is full of advice on life and love. While out on the town, Judith is suddenly kissed by a total stranger, which opens her eyes to new possibilities ... which is when she notices Pat (Danny De Vito), the elevator operator in her building. Pat's life is in even worse shape than Judith's; his wife has thrown him out for gambling, he's in debt to loan sharks, he's sleeping on the couch of his more successful brother, and his daughter is dying. At first Pat borrows money from Judith, but when the two start talking, they realize they have more in common than they imagined. LaGravenese based his screenplay on a pair of short stories by Anton Chekhov.
Critic Reviews for Living Out Loud
Audience Reviews for Living Out Loud
Leigh Ryan
Super Reviewer
Mahalo, Joanna, this was a good one. Danny DeVito. Truly underrated. This is worth seeing just because of his performance.
For those flixster friends who have been following my evolving thinking on the term "bittersweet," this is another movie which captures that mood. Neither tragic nor comic, and certainly not classically tragi-comic, there is a wistfulness to this film whiich, for me, can only be called bittersweet. After the horrible life he has had, the most receint blow being the death of his daughter, DeVito is on an upward curve. You know that his life has turned around.
For Hunter, it is a different story. It is easy to believe that, as DeVito departs her life, she may have many more downward trending days ahead. It is sad, but it is so true in life. You make choces at moments that can lead you to the top, or send you rushing toward the abyss.
A beautifully quiet and thoughtful movie.
Lanning : )
Super Reviewer
Living Out Loud Quotes
| | |
| --- | --- |
| Judith: | When you lay in the gutter, you can see underneath people better than usual. |
| | |
| --- | --- |
| Judith: | What's so important about living longer and feeling safe? |
| | |
| --- | --- |
| Judith: | I can't stand those terrorists. They're so mad at everybody. I wish they'd just get over it! Maybe I should adopt a crack baby--send it to a good school. |