The Living Wake
(2010)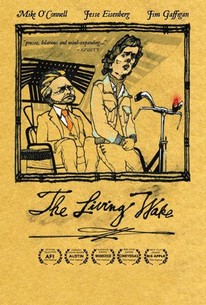 Movie Info
"The Living Wake" is a dark comedy set in a timeless storybook universe. Self-proclaimed artist and genius, K. Roth Binew (Mike O'Connell), has one day to live. He has enlisted his best and only friend, Mills Joquin (Jesse Eisenberg), to take him around on a bicycle powered rickshaw. In a final attempt to probe life's deepest mysteries, Binew endures one ridiculous trial after the next. He concludes his day with a final performance, his living wake. On a makeshift stage in an open field, Binew's friends and enemies gather to witness his madness one final time.
News & Interviews for The Living Wake
Critic Reviews for The Living Wake
Audience Reviews for The Living Wake
½
An eccentric with a mysterious, fatal illness spends the last day of his life searching for his father who will deliver a "brief but powerful monologue" about life's purpose. Half of this film begs us to take it seriously, as though it has something profound and original to say about life and death, and the other half avoids any serious consideration in favor of broad and over-the-top comedy. The result is a mixed bag that falls short in both goals. The film's energy comes from the lead performance by Mike O'Connell; the set must not have had craft service because he chews the scenery like a starving orphan. The character K. Roth Binew is written to be larger than life, but O'Connell makes him even larger. I found myself wishing that Binew could have been played by Albert Finney, channeling his Big Fish character. Jesse Eisenberg is wonderful as Binew's eternally faithful and loyal assistant, a thankless character that Eisenberg mines for gold. Overall, despite O'Connell's over-the-top performance, there are a lot of little parts, moments of philosophical truth, that make this film worth watching even if the whole is inconsistent and flawed.
Jim Hunter
Super Reviewer
½
Mixed thoughts about this movie. On the one hand it is definitely a very quirky and eccentric film, with an oddly entertaining main character, K. Roth Binew and his complete utter insane way he leads his life as if this was a theater play and everyone around him were supporting players in *his* life. So he's obviously a very egocentric man but he is amusing to watch, thanks to a committed performance from Mike O'Connell. And I think there's also a good idea with seeing how hard K. Roth struggles to come to terms with the fact that nobody will remember who he is after he has passed, despite being a self proclaimed genius and artist. I think there's a good idea there of a man struggling to find what he added of value to the world. I think where the movie sort of falls apart is that it's way too quirky, in lieu of actual storytelling. I just think the quirkiness of all the proceedings got in the way of what could've been a very poignant and touching story about a man coming to terms with the fact he simply didn't add much to it, at least in his own way. There is some of that however with Mills and K. Roth's relationship is easily the best part of the film, at least the way it plays out in the end and how you get to see that Mills really was the only person in the film who actually cared for K. Roth and whether he lived or died. And I think the end of the film does have a more poignant and touching ending as it relates to their relationship. Jesse Eisenberg is very good in his role, what a surprise. So really, I mostly enjoyed the film but it is definitely a mixed bag of good and not so good (and I don't mean bad).
Jesse Ortega
Super Reviewer
½
For the record, K. Roth Binew(Mike O'Connell, who also co-wrote the script) is not a relief pitcher for the Milwaukee Brewers. Rather, he is a writer/poet/former mental patient, whose father(Jim Gaffigan) abandoned him before he could teach him the secret of the one great monologue, and has been diagnosed with an unnamed/vague/fatal disease. On his final day on this planet, he is accompanied as always by Mills(Jesse Eisenberg), his man/chauffeur/biographer, to hand out invitations to his wake that night, starting with his belligerent neighbor Reginald(Eddie Pepitone). Sadly, the viking funeral is not an option at the undertakers, so he visits a prostitute(Colombe Jacobsen-Derstine) to cheer himself up. "The Living Wake" is a movie undone by too much quirkiness when less would have been more and that especially applies to the character of K. Roth Binew who just never shuts up. A much better approach would have been to pull the camera back to show the world in relation to him. A key example would have been in the scene with the prostitute which should have had a wider frame in showing both the sex and Mills taking notes simultaneously, emphasizing how he tilts the axis of the world just a little towards the strange. Just because Binew is intent on telling his own story(and isn't that Mills' job anyway?) does not mean that the movie has to play into the narcissism of the character unless the filmmakers are maybe narcissists themselves? That being said, the climax is definitely moving, even if it is too little too late.
The Living Wake Quotes
There are no approved quotes yet for this movie.