Talking to Heaven (Living with the Dead)
(2002)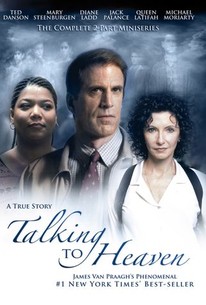 AUDIENCE SCORE
Critic Consensus: No consensus yet.
Talking to Heaven (Living with the Dead) Photos
Movie Info
This two-part CBS TV movie was filmed as Talking to Heaven, the title of the autobiographical book upon which it was based. Ted Danson stars as real-life psychic James Van Praagh, a man who spent much of his life ignoring or denying his clairvoyant gifts until it became impossible for him to suppress them any longer. After experiencing several "visitations" from dead people in his youth, Van Praagh was tagged as a freak and shunned by friends and family members alike. It is only during a particularly difficult period of his adult life that James is willing to acknowledge his special talents, and then only because he has had visions of a forlorn young boy with bound hands. Galvanized into action by such grim images, not to mention the plaintive voices of several additional ghostly youngsters, James agrees to assist the authorities in locating the buried victims of a serial killer who may still be at large. Living With the Dead originally aired on April 28 and 30, 2002.
Audience Reviews for Talking to Heaven (Living with the Dead)
A man begins to have disturbing visions of dead people, among whom are his mother and victims of a local serial killer. The detective investigating the murders looks to him for help in solving the case. This is a great watch. One of the best movies I have ever seen. I had the luck of finding this on T.V. today. I enjoyed it so much that I would love to find this on DVD. The guy (Ted Danson) is on one hand trying to help a detective solve a series of murders but also cope with his new found "talent" that he does not want, along with other personal troubles. His father played by Jack Palance is a non-believer and doesn't want to hear about his son's new talent. But his close friend (played by Queen Latifah) is a believer and encourages him to use his talent. This movie is a mixture of a thriller, suspense, and drama. Definitely one of the best (if not the best) T.V. made movies I have ever seen. It alternates chilling and moving moments without any false note, using misdirection and red herrings with consummate skill. It keeps you guessing throughout the movie until the end. So if you like a good ghost story, then this is a movie you don't want to miss. Has all the elements to give you chills. A must see...
♥˩ƳИИ ƜѲѲƉƧ♥
Super Reviewer
Talking to Heaven (Living with the Dead) Quotes
There are no approved quotes yet for this movie.