L.M. Montgomery's Anne of Green Gables: Fire & Dew
(2017)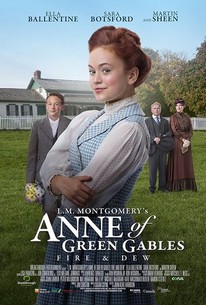 AUDIENCE SCORE
Critic Consensus: No consensus yet.
Movie Info
Through the influence of a spirited new teacher - Miss Stacy - Anne steps up her ability at scholarship and competes for the few spaces available at a teacher's college in Charlottetown. Her hard work and competitive nature (especially with Gilbert) pay off. When Anne leaves for Queen's College, Matthew and Marilla feel a sudden emptiness in their lives. Marilla's failing eyesight and Matthew's poor health make life more difficult on the farm and they are forced to hire a man to help out. In Charlottetown, Anne is nearly overwhelmed by loneliness and the harsh circumstances of her urban surroundings. More than this, she feels the pressure of severe competition - especially from Gilbert Blythe. Their estranged relationship is almost repaired at the school dance but Anne misinterprets the moment and their estrangement continues. Matthew and Marilla make the long journey to be present when Anne graduates and wins the coveted 'Avery Prize'. They bring Anne back to Green Gables where she reunites with Diana and discusses the difficult choice she must make: to work as a teacher or continue on to University in some far off city like Halifax or Montreal. Shortly after her return to Avonlea, Anne is devastated by the death of her kindred spirit, Matthew. That event and Marilla's failing eyesight make her decide to teach locally rather than move away. Just when all seems lost Anne discovers the dark cloud over her life has a silver lining in the person of Gilbert Blythe. His direct talk heals their relationship and rekindles their romance. Anne's good feelings about this turn of events make her believe, "God 's in His heaven and all 's right with the world."
Critic Reviews for L.M. Montgomery's Anne of Green Gables: Fire & Dew
All Critics (2) | Top Critics (1) | Fresh (2) | Rotten (0)
Fire and Dew gets an emotional coda, one that exists in the novel, that doesn't feel false in the moment.
Plucky heroine's tale concludes in family-friendly film.
Audience Reviews
There are no featured reviews for L.M. Montgomery's Anne of Green Gables: Fire & Dew at this time.
L.M. Montgomery's Anne of Green Gables: Fire & Dew Quotes
There are no approved quotes yet for this movie.